Many people don't know that Norway is the world capital of outdoor stairways: superbly engineered wooden and concrete steps that lead to the country's most beautiful viewpoints.
W
Way up high – above the sky-blue fjord, the mountain lake, the evergreen trees and the escarpment – is a natural rock platform, rectangular in shape, raggedy in edge and made as if by a Norse God.
The path to get there narrows from a broad plateau to an exposed extremity leading to an obvious, yet vertiginous, viewpoint that feels as if it could collapse at any moment. I gawped at the sight. Don't look down, my inner voice said. Don't fall off.
"This view is insane!" someone shouted from behind me. I turned to greet the only other person on the cliff ledge, as a brutal wind threatened to blow us both clean off into the Lysefjord, some 600m below. It was a cold weekday in September and we were strangely alone.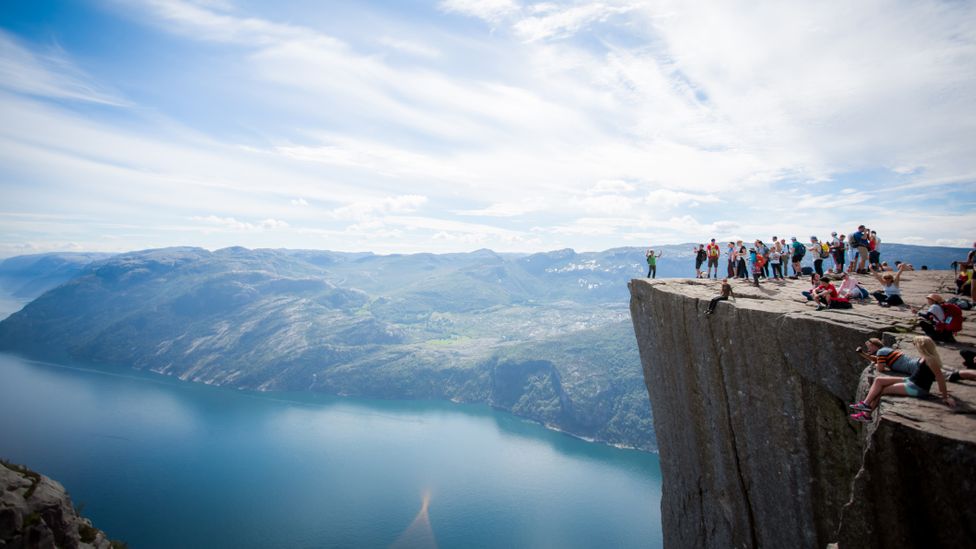 Preikestolen is among Norway's most hiked trails, with 331,000 visitors reaching its exposed top in 2019 (Credit: Morten Falch Sortland/Getty Images)
In many ways, the location and the sublime views from Preikestolen, or Pulpit Rock, near Stavanger in south-west Norway are irrelevant, because what is important is the journey to get there. It is a hike up an expertly engineered and well-maintained stone staircase that is as much of a marvel as the finale itself.
There's an ancient beauty to the stairway and it comes from the fact that Preikestolen – like nearly 300 other natural stone staircase projects in Norway purpose-built over the past two decades – has been crafted by teams of Sherpas from Nepalese communities living in the shadows of Mount Everest.
There was a time when Norway's mountain paths would only see a handful of local visitors. But social media has changed all that, and over the past decade, the country has seen such a dramatic spike in overseas travellers keen to Instagram its viewpoints that something has had to give.
You may also be interested in:
• Norway's icy marvel of engineering
• The Swedish law of wanderlust
• Switzerland's gravity-defying solution
Indeed, Preikestolen is now among Norway's most hiked trails, with some 331,000 visitors reaching its exposed top in 2019. Last year, despite Norway closing its international borders due to Covid, the viewpoint still managed to attract a creditable 183,000 visitors. And Lysefjorden Utvikling, the area's tourism development agency, is forecasting that the figure will reach 600,000 in a few years' time. That's 1.2 million boots marching up and down each year.
Which is to say that, by necessity, the way people access mountaintop viewpoints like Preikestolen is changing. And, so far, the so-called Sherpa stairs are the best solution. Unlike normal hiking paths, they have been conceived to reduce the number of accidents and mountain rescues (by making it safer to walk) and created to help prevent erosion and strengthen the relationship between visitors and the land around them (by protecting the country's vulnerable mountain landscapes). They can also withstand all forms of weathering. Silently, they exist as monuments of an ambitious and more sustainable national plan to make outdoor exploration more sustainable.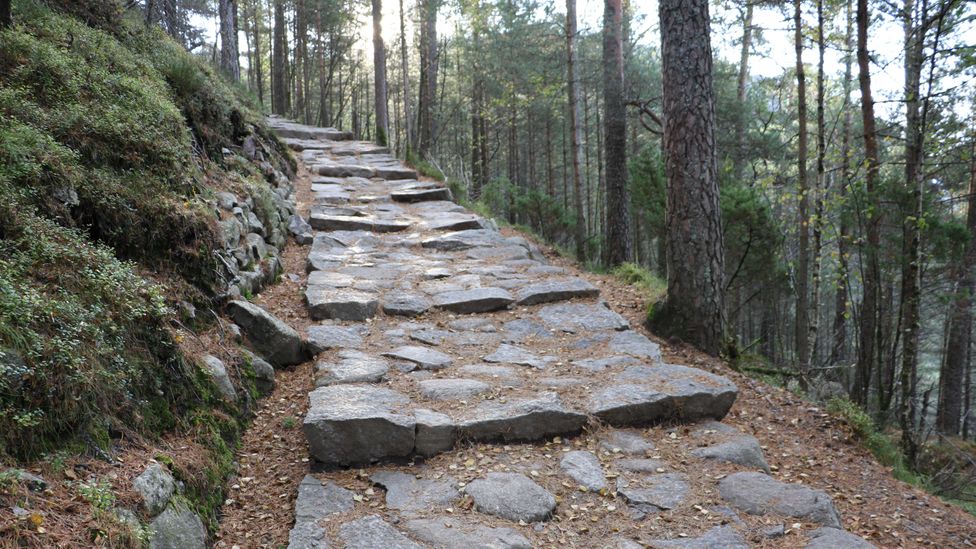 The stone stairway to Preikestolen was built by Nepalese Sherpas, who are experts at working in difficult mountains conditions (Credit: Mike MacEacheran)
"The Sherpa stairs – or stone staircases – are one of many tools in facilitating Norwegian outdoor life," said Torgeir Nergaard Berg, trail advisor for the Norwegian Trekking Association. "In areas with many visitors, this is the right answer. For many, the stone staircases can lower the threshold for experiencing nature, which is important to strengthen public health."
Tread lightly
If you're planning a trip to Norway, ensure that your environmental footprint stays as low as possible by visiting places that are labelled as sustainable destinations.
You can also learn more about the country's right to roam here, including rules and regulations and tips on everything from foraging to fires.
The brains behind this bold experiment is Geirr Vetti, a 60-year-old mountain farmer turned managing director of Stibyggjaren, an innovative trail building company based in the village of Skjolden on a branch of the Sognefjord, who told me his idea to enlist Sherpas first came to him in a dream 20 years ago.
"I woke suddenly and thought they'd be perfect for the job," he said, excitedly, as if reflecting two decades later on now made the dream all the more fantastic. "I'd never been to Nepal at that time, but I remembered a Norwegian expedition to Mount Everest and some of the names of the guides had lodged themselves in my memory – so with some detective work, I tracked them down and wrote letters to see if the Sherpas could help."
That the ethnic group are elite mountaineers and experts at working in difficult mountains conditions makes them the perfect trail builders, and today Vetti relies on a pool of some 120 hardy Sherpas every year. It is telling, he told me, that his business is thriving despite the coronavirus pandemic. This summer, 39 builders arrived to work on 20 projects across the country. Calls to build similar projects have also come in from around the world – namely, Sweden, the Faroe Islands and the Middle East – and, with 80 staircase developments and maintenance contracts cancelled over the past 18 months because of Covid, 2022 is ramping up to be Stibyggjaren's busiest year yet.
"Every mountain and every path is different and has its own challenges," Vetti said. "But the Sherpas are almost superhuman, having evolved to master working at altitude. They're also making an invaluable, ongoing contribution to Norway's mountain heritage."
What began as a source of income in the Sherpas' climbing off-season is now an almost year-round operation. At the time of writing, organiser-in-chief Nima Nuri Sherpa, from the roadless and tight-knit community of Khunde in Nepal's Solukhumbu District, was working in the Lyngen Alps east of Tromsø to inaugurate a new mountain trail with seven others from the same village. Over the course of a month, his team were creating more than 400 steps, made from up to 500 tonnes of local stone, and manoeuvring each one-tonne slab by hand after they had been airdropped into the wilds by helicopter.
The Sherpas are almost superhuman, having evolved to master working at altitude. They're also making an invaluable, ongoing contribution to Norway's mountain heritage
"Our communities have always transported everything in and out of our region by ourselves or by yak, and these lessons have been passed down by every generation," said Nuri Sherpa, matter-of-factly. "Traditionally, we found our calling as climbing guides, but building mountain stairways is less risky and of more benefit to the people of what is now our second home. This is good karma."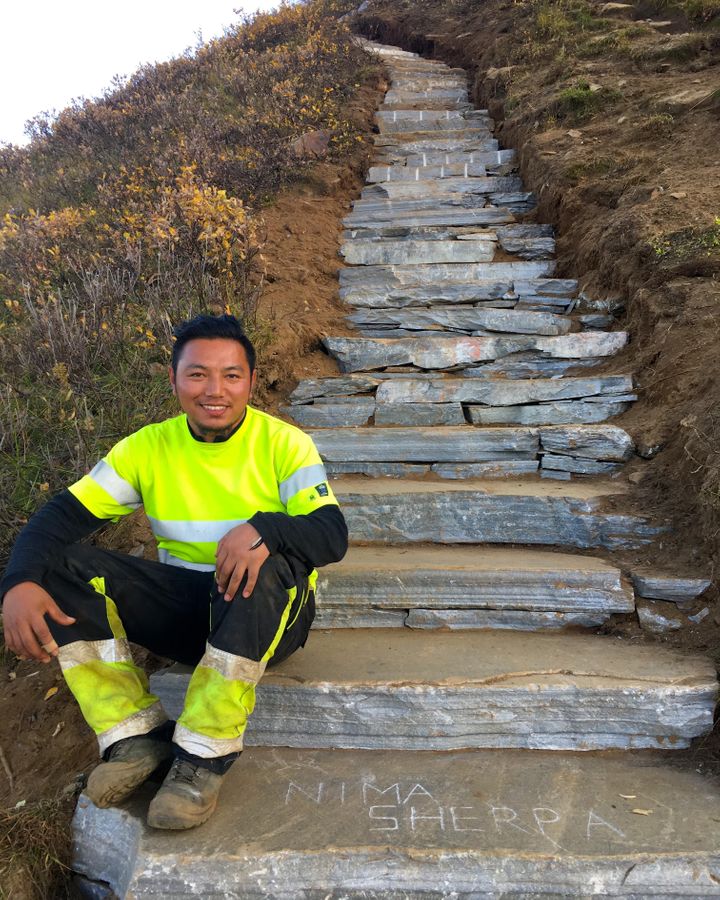 Nima Nuri Sherpa says that building mountain stairways is less risky than their work as climbing guides in the Himalayas (Credit: Nima Nuri Sherpa)
Their work has even greater impact for the Sherpas at home in Solukhumbu: since the project's inception, schools and a hospital were able to be built in Khunde and neighbouring Khumjung, while income is continuously funnelled into the wider community to improve health and social welfare. Fittingly, the Sherpas, so inspired by their Norwegian projects, have undertaken similar work on the pathways that bind their mountain kingdom together.
While Preikestolen is all about the rock platform views, Norway's other stairways to heaven offer an array of secluded lookouts, coastal seascapes and city-wide panoramas. In Midsund, outside of Molde, the stone stairway is a procession of 2,200 steps up to Rørsethornet peak from where you'll get a carousel view of ocean, fjord and mountain. Other highlights on the perimeter of Norwegian cities are the 1,300 steps that snake up Bergen's Mount Ulriken and the purpose-built flight above Tromsø to Fjellstua; while the town of Mosjøen is home to Helgelandstrappa, Norway's longest stone staircase with 3,000 steps sculpted into the highlands.
For me, the connoisseur's alternative to Preikestolen is Kjerag, a Sherpa pathway to Lysefjord's highest peak that comprises the same stone steps and deep fjord views, but without the visitor crush of its close neighbour.
Partly as result of the Sherpa stairs, on a late autumn's morning on the Lysefjord, hiking can feel pretty idyllic. In this land of steep cliffs, the stone stairways symbolise a longer lasting and more sustainable way to hike the mountains, and this is good news for anyone who loves the outdoors. Doubly so, in fact, for anyone troubled by the post-pandemic rise in hikers streaming out into the wilderness.
Indeed, for Norwegians like the Lofoten Rangers, a torch-bearing voluntary project to raise awareness of fjellvettreglene(the country's deep-rooted respect for the environment), the Sherpa steps are great news. And they're an aspect of the country, chairperson Christina Svanstrøm told me, that is becoming increasingly embedded into Norway's national psyche.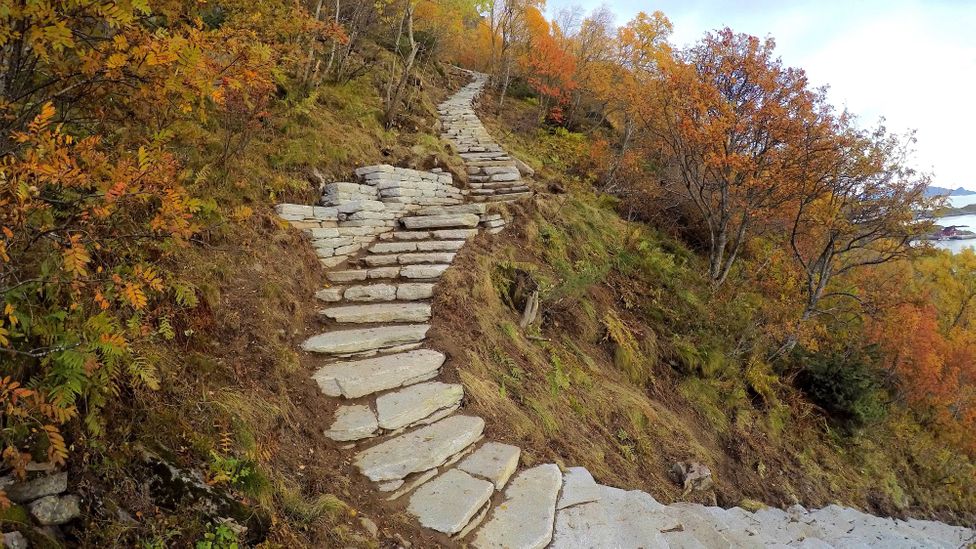 Around 300 stone staircases have been built in Norway over the past two decades (Credit: Nima Nuri Sherpa)
"Path erosion is a real problem in many regions with stand-out views," Svanstrøm said. "At the smallest level, the Sherpa stairs teach hikers to follow the path in pressure areas, so the ground to the top remains available and solid in the long run. But another positive effect is how the structural limitations of the staircases has also become a shorthand for passing on good hiker advice and the ethics of mountaineering to visiting hikers."
"We do know that foreign tourists are overrepresented in rescue operations in Norwegian nature," added Nergaard Berg. "There are many reasons for that, but there are at least many organisations and governmental agencies working to communicate knowledge about nature to visitors. This is key."
The message in Norway is then clear. These are mountains, fjords, plateau, cliffs, cities, towns and national parks that wear their new look proudly.
So, when visiting the country, don't go seeking an alternative path.
Preserve and protect the habits you're exploring.
Leave no trace.
And stick to the stairs.
Slowcomotion is a BBC Travel series that celebrates slow, self-propelled travel and invites readers to get outside and reconnect with the world in a safe and sustainable way.
--
Join more than three million BBC Travel fans by liking us on Facebook, or follow us on Twitter and Instagram.
If you liked this story, sign up for the weekly bbc.com features newsletter called "The Essential List". A handpicked selection of stories from BBC Future, Culture, Worklife and Travel, delivered to your inbox every Friday.