The story of "King" David Hartley, whose forgery empire brought the UK economy to its knees in the 18th Century, will soon spread far beyond West Yorkshire.
F
February is as unpredictable as it is breath-taking in Cragg Vale, a village of cobbled streets and immense natural beauty in the sprawling West Yorkshire countryside. A week before I'd planned to trek a five-mile trail known locally as the Coiners route, Cragg Vale was battered by two storms that left flooded rivers and uprooted trees in its wake.
When I finally made it, however, the skies were clear blue and the hills glistened in burnt yellows and rich greens. This is an imposing landscape largely untouched by time, where a handful of wind turbines dotted along the horizon are the only obvious markers of modern life.
I'd come to Cragg Vale to walk in the footsteps of "King" David Hartley, who once forged a criminal empire in this part of Yorkshire, a county affectionately nicknamed "God's own country". I strolled up steep, forest-covered hills and meandered along bridlepaths lined with wildflowers. Hillside cottages were nestled within the valleys, cocooned from the outside world. Birds sang, brooks babbled and sheep grazed in frost-dusted fields.
These were the same views that inspired Emily Brontë's Wuthering Heights and where the only Brontë brother, Branwell, worked the railways. On first sight, there was little to suggest that this expansive patch of countryside once harboured a gang known as the Cragg Vale Coiners, whose counterfeiting enterprise in the 18th Century took on the establishment and brought the Bank of England to its knees.
At the time, ongoing trade between England, Spain and Portugal meant both English and foreign coins were accepted as legal tender in England. In this, the Coiners found an opportunity, albeit an illicit one.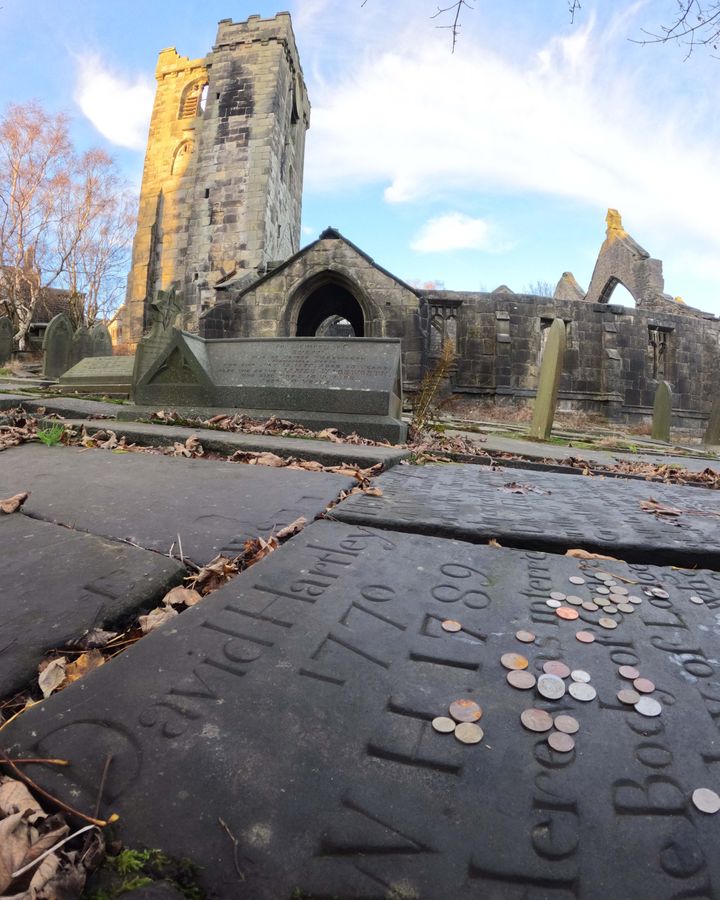 "King" David Hartley is buried in Heptonstall, in the same churchyard as Sylvia Plath (Credit: Steve Hartley)
These coins were made from valuable metals, more or less worth their weight in silver and gold. The Coiners, led by Hartley, clipped edges from these coins, shillings and moidores usually bought from local traders who would get a cut of the profits, and melted the clippings with metal scraps to forge counterfeit coins. Portuguese moidores were commonly forged because they were the most valuable, worth around 27 shillings a piece, roughly a week's wages.
This enterprise wasn't a small fry operation. It was once the biggest fraud in British history, with some estimates saying that £3.5m of fake coins were paid back into circulation, reducing the currency's value by 9%. Today, that sum would be around £650 million. While the gang were known to murder those who crossed them, they also enriched – and were protected by – their community, robbing from the rich to feed the poor locals, who would gift David his "King" moniker. Hartley's brothers and fellow gang members, Isaac and William, were duly known as the Duke of York and Duke of Edinburgh.
Today, Hartley's story has become local legend and is almost folklorish in its infamy. But this northern England enclave is rife with strange history and tall tales.
Standing tall atop a 1,300ft hill in the Upper Calder Valley – made up of small towns and villages such as Hebden Bridge, Todmorden and Mytholmroyd, as well as Cragg Vale – is Stoodley Pike, a 121ft spiked monument originally completed after the Battle of Waterloo in 1815 as a tribute to peace. By calamitous chance, the pike toppled just before the Crimean war was declared against Russia in 1854.
Placed outside farmhouses and churches are centuries-old human heads carved out of stone, once thought to ward off magical spirits. Todmorden, meanwhile, is a hotbed of alien conspiracies and purported UFO sightings, mainly fuelled by the 1980 death of coal worker Zigmund Adamski, who was discovered 20 miles away from his home covered in a non-identifiable, slimy goo. His case remains unsolved.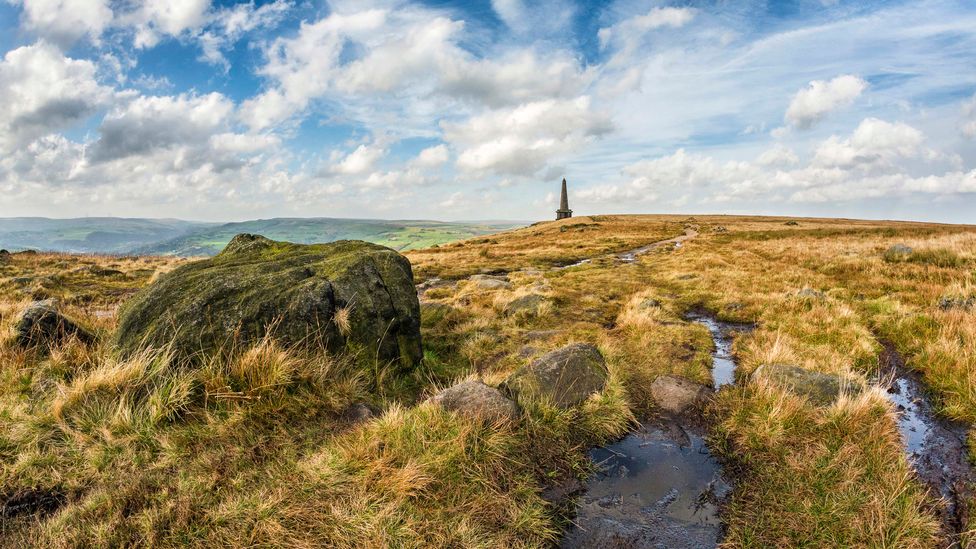 The 121ft Stoodley Pike monument dominates the skyline of the Upper Calder Valley (Credit: petejeff/Getty Images)
 "The perfect conditions for folklore is an area where there are separate communities in good communication with each other, economic interdependence and a distinct landscape," said John Billingsley, an author and folklore historian.
"Everybody here is close enough to be drinking in the pubs with each other," he continued. "That keeps stories circulating and gives a sense of identity. The Coiners came very strongly with that sense of local community, the people who they were doing a 'Robin Hood' job for."
It's the stuff of folk legend, a desire to have someone who will put one over on 'the man'
Opinion is divided when remembering the Coiners. Some believe they were simply products of their time, hard men for hard times. Others believe they were nothing more than criminals.
"All societies have their outlaws," added Steve Tilston, a folk musician and Hebden Bridge local who chronicled the story of the Coiners in the song The King of the Coiners. "It's the stuff of folk legend, a desire to have someone who will put one over on 'the man'. [Outlaws] are not just total villains, they manage to cock a snook at the people in charge. And in Hartley's days, corruption ran rife. As, dare I say it, it does now."
The scenery of the Calder Valley, much like some of its attitudes, has largely remained untouched since Hartley was alive. "This area has not changed an awful lot since those days," said Tilston. "This is where Hartley and his cohorts would have trudged. They would have looked out at the same views as we do today."
To guide me through where Hartley "trudged", I met up with local cartographer Chris Goddard. In 2018, Goddard devised the Coiners route, which spans many of the locales frequented by the gang, some based on historical fact, others mythologised by Goddard on his many walks through the Calder landscape.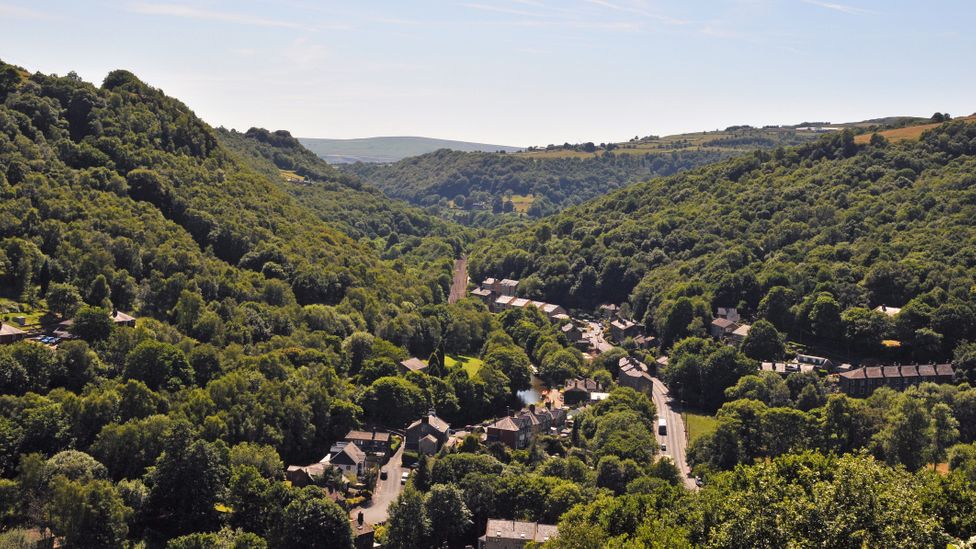 The scenery of the Calder Valley has largely remained untouched since David Hartley was alive (Credit: Philip Openshaw/Getty Images)
Our walk began in Mytholmroyd, where the gang regularly plotted their moves over pints of ale. From there, we weaved our way through dense, ancient forest, dredging up steep slopes and wading through fallen leaves. We wandered through a small lagoon unofficially known as "David's Pool", where the gang leader may have once bathed; and, around a mile later, reached the sprawling moorland of Broadhead Clough. Alone, at the apex of the hill, stood Bell House, Hartley's original home and very much the gang's illegal hub. Placing a hive of treasonous activity in plain sight seems somewhat counterintuitive. But the landscape protected him, said Goddard. "Being here, Hartley could see everything."
A stone's throw from Bell House was Lumb Hole Falls, where, from a giant boulder overlooking the valley below, it's rumoured Hartley would stand to regale his cronies . As we continued, we met a woman sitting on a bench looking at an expanse of green where, in the spring, bluebells will appear.
"They did a really good job around here," she said, after we mentioned the Coiners. "It brought the treasury down in London… something needs to bring them down," she said, her tone suggesting that a north-south divide still exists in this part of England.
If I'd have been there in those days, I'd have done the same. It was survival."
"People around here could eat meat, they could get proper clothing," she added. "People say they were rough, but it was a rough time. Good on him. If I'd have been there in those days, I'd have done the same. It was survival."
And survive the gang did, but it was on borrowed time.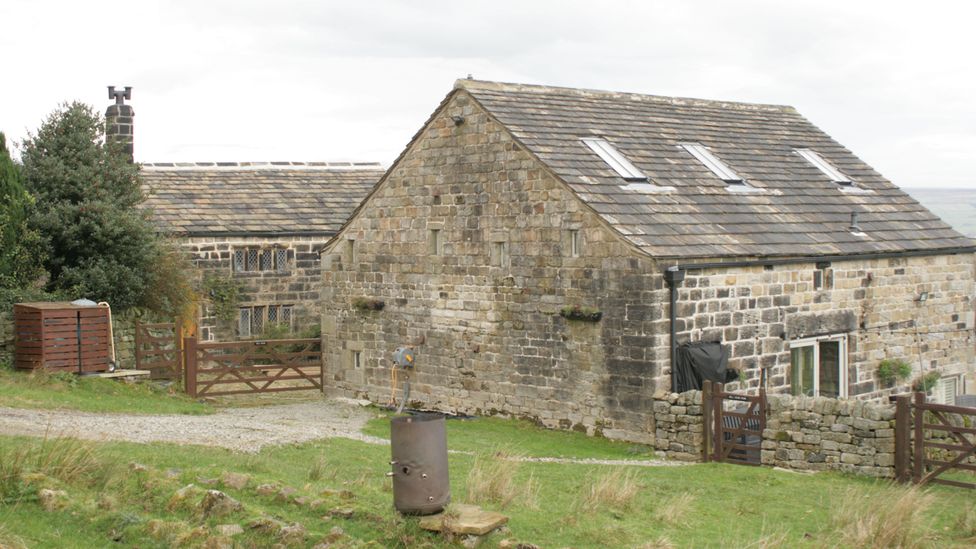 Bell House was Hartley's home and the hub of the gang's counterfeiting operation (Credit: Steve Hartley)
As the gang's riches grew too big for higher powers to ignore, the Houses of Parliament were drawn into a debate over their affairs. The final straw came on 8 November 1769, when several members of the Coiners murdered an excise officer, William Deighton, who was sent to investigate them.
Five days after the murder, a royal proclamation issued a £100 reward to anyone who could name the perpetrators. Dozens of arrests were made, and the once tight-knit group began to implode. Members turned on each other to save themselves. Some escaped justice, like David's brother Isaac, who died in his 70s or 80s. By the end of the year, however, Hartley was arrested. And on 28 April 1770, he was hanged at the Knavesmire Tyburn near the city of York.
For reasons that remain unknown, Hartley was afforded a burial not befitting of a person sentenced to death in the 18th Century, a time when criminals could be hung, drawn and quartered. After execution, his body was released from York and hauled 60 miles to the St Thomas à Becket Church in Heptonstall, West Yorkshire, where he was buried in the church's consecrated grounds.
And that is where the King remains.
The church today is a roofless ruin, built between 1256 and 1260 and mostly destroyed through time. The poet Sylvia Plath is buried in the same churchyard; when I visited, her grave was adorned with flowers and the soil pierced with pens and pencils left in tribute. Hartley's was little more than a stone in the ground, laid flat amongst a mosaic of other weathered places of rest.
But Hartley's name lives on, both etched in stone and in his descendants.
"Legendary is probably a good word to use for him," said Steve Hartley, the five-time great-grandson of David Hartley.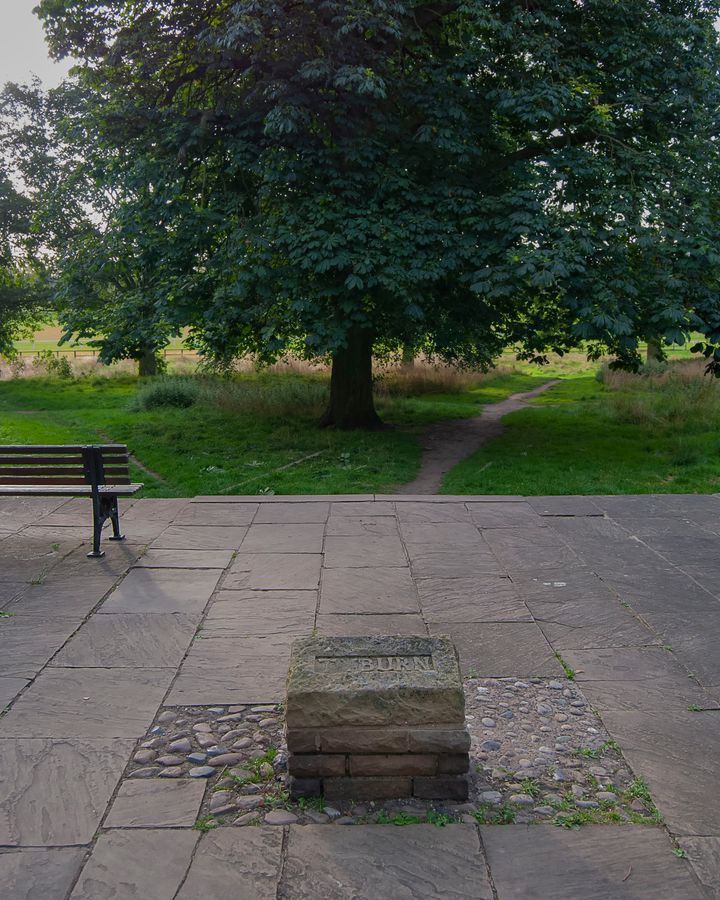 Now marked by a plaque, Knavesmire Tyburn was once the site of public hangings in York (Credit: Rob Atherton/Getty Images)
Steve's family history was controversial growing up, and he remembers how his great-grandad rarely spoke of Hartley's escapades. "The older generations were ashamed of it," he said.
Some still echo those sentiments. Tilston remembers how a Heptonstall museum curator once told him that Hartley's crimes made him unworthy of burial at the church.
Nevertheless, the Hartley tale is soon set to spread far and wide. A TV adaptation of the Benjamin Myers novel The Gallows Pole, a part-fictionalised telling of the Coiners story, is currently in production. Tourism to the Calder Valley will likely follow. "It will be like Peaky Blinders. Everyone will want to know about the real Yorkshire Coiners," Steve said, referencing the Birmingham tourism boom sparked by the crime drama series.
It seems that there are two sides to the coin when remembering David Hartley: revered or reviled. But there's also something intrinsically human in why his story continues to be told, according to Billingsley.
"Folklore has this ability to bring people in, to embrace people without them really knowing it," he said. "It's a search for origin, and a validation of one's own place. There's a strong element of that in the community here today. People who are looking for meaning and connection."
--
Join more than three million BBC Travel fans by liking us on Facebook, or follow us on Twitter and Instagram.
If you liked this story, sign up for the weekly bbc.com features newsletter called "The Essential List". A handpicked selection of stories from BBC Future, Culture, Worklife and Travel, delivered to your inbox every Friday.