Now that the Galician chef has glimpsed an existence that is about more than just work, she won't go back. "To be happy in the kitchen, you have to be happy outside of it."
A
After its cathedral, Santiago de Compostela's most visited destination is the Mercado de Abastos, the city's main food market, but chef Lucía Freitas doesn't have to embark on a pilgrimage to get there – it's directly across the street from her flagship restaurant, A Tafona. Her workday begins in the Mercado, scrutinising the fruit, making small talk with her favourite chicken farmer or eying a basket of red peppers so shiny they look like they've been polished. Built in 1941, the market is currently home to about 70 producers and artisans who sell seafood, meat, cheese, produce and other quality comestibles from the region of Galicia in north-westernmost Spain, a mountainous web of coastal villages and lush green valleys.
For Freitas, however, the Mercado is more than just a place to buy ingredients; it's an endless source of inspiration. All her projects, including two restaurants and a third on the way, are rooted here, and it has been a lifeline during the most challenging periods of her career, thanks to the paisanas (rural women) who sell their wares in the stalls that line the old granite corridors.
As we walked through those halls last October, she nodded toward a seafood merchant at the end of a row. "I couldn't have survived without women like Mari Carmen. She saw me here every day when I was pregnant, with my belly out to here," said Freitas, gesturing in front of her. "She knew I was a single mom and that I was struggling to keep my restaurant afloat, so she'd sell me the most amazing fish at cost."
These days, when Freitas visits the market with Mauro, her six-year-old son, the paisanas dote on the boy as if he were the Mercado's collective child. Privately, she told me about some of the challenges these women have faced and the bonds she has forged with them. Her respect is evident. "They are warriors," she said. "They know what it means to have to fight for things."
So does Freitas. Even as she was working 18-hour days at A Tafona, the restaurant's inexpensive menú del día (a set price menu typically with a choice of appetiser, main and dessert) was strangling the business financially. Then, in 2016, about a month after she gave birth, her co-chef and business partner abruptly left the venture. She remembers the conversation she had with her father as if it were yesterday. "I was holding my son in my arms and crying out of sheer frustration. If I could barely keep the restaurant afloat while working nonstop with a partner, how was I going to do it alone?" But somehow, he convinced her to hold onto her dream a little bit longer, and a few days later, everything began to change.
Freitas is inspired by ingredients sold at the Mercado by paisanas (rural women) (Credit: Alberto Paredes/Alamy)
That's when an acquaintance visited A Tafona for dinner accompanied by Marco González, a New York City restaurateur with local roots who, along with his two brothers, was looking to establish a Galician eatery in the Big Apple in memory of their parents. González was impressed by Freitas' work, and when they chatted after the meal, he asked her to consider designing the menu and kitchen of what would eventually become Tomiño, in Manhattan's Little Italy neighbourhood.
Before leaving that day, he told her to determine her consulting fee. When the two reconvened a few weeks later, she was still in the throes of postpartum hormones and only getting a few hours of sleep per night, with the baby waking up constantly. She couldn't bring herself to utter the proposed figure, for fear it would seem ridiculously large. González, however, assumed she was playing hardball, so he scribbled something down on a piece of paper and passed it to her. "He had added a ZERO at the end of the amount I was about to ask for," she said, her eyes widening. "I put on my best poker face, but as soon as he left, my entire team and I started hugging each other. It was as if we'd won the lottery."
Not only did the consulting project boost her visibility, but it also provided the capital she needed to begin revamping her Santiago restaurant and designing the kinds of tasting menus she'd always dreamt of offering. In 2018, a little more than a year after making the changes, A Tafona earned its first Michelin star. (Tomiño also earned Michelin's Bib Gourmand and a slew of rave reviews for her line-up of traditional Galician tapas.)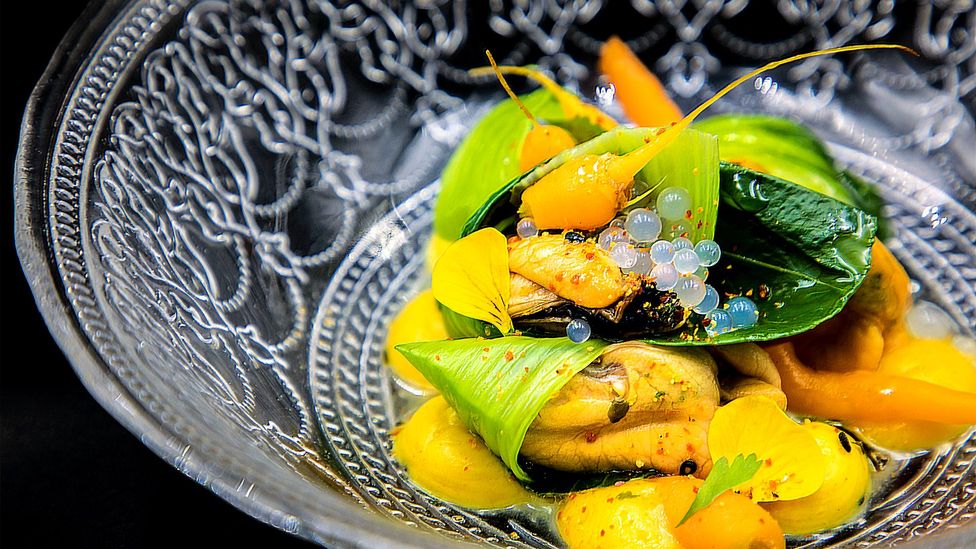 Galician mussels in citrus escabeche with red lentil soup (Credit: Roi Martínez)
Freitas began cooking at home at a young age alongside her father. An intensely introverted child, she was also a devoted viewer of Basque chef Karlos Arguiñano, Spain's most well-known TV chef, who has been on the air for more than 30 years. After school, she would head home to watch his show and then attempt to make some of the dishes she'd seen.
At 19, she decided to attend culinary school in Bilbao, where she learned traditional cooking, which she believes is essential before one can think about creating "vanguard" cuisine. The experience also helped her lose some of her shyness. "I let go of those labels I'd given myself and started focusing on what I love," she said. "That's when I began to flourish." She went on to work for some of Spain's biggest names, including chef Jordi Butrón in Barcelona, chef Andoni Luis Aduriz in San Sebastián and the Roca brothers in Girona.
After returning home and opening A Tafona, Freitas' relentless work schedule made it nearly impossible to travel, but she soaked up everything she could from the few trips she was able to take. Some of her dishes have roots in those experiences, and her keen sense of smell and vivid taste memory allow her to know exactly how various flavours will work together even before she's tested them. Also, ditching the menu's à la carte options freed her from worrying about what would sell, which allowed her to create more of the vegetable-focused dishes she loves.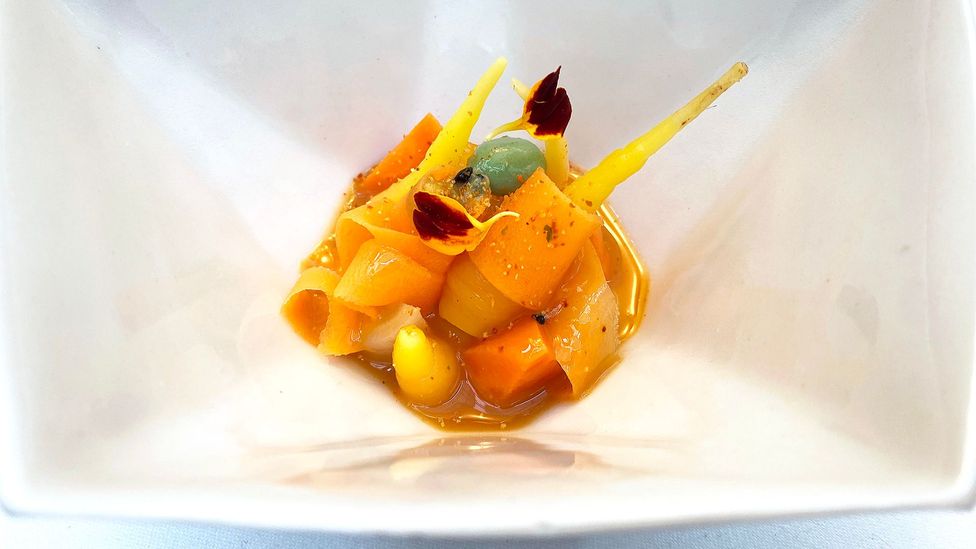 Carrot cromatismo: a composition of carrots, olives, cucumbers and guindilla peppers (Credit: Sofia Perez)
Freitas' menus at A Tafona are a deft blend of all her strengths as a chef. Although they vary daily, they always include at least a few of her cromatísmos, which are built around a particular colour, like her yellow-orange composition of carrots, olives, cucumbers and slightly piquant guindilla peppers, pickled with a kombucha-based vinegar made from a tea of lemony herbs. The end result was notable for its bold vegetal flavours and a freshness that runs through much of her cuisine.
Her food also features many subtle nods to local classics. Lacón con grelos is the kind of rustic fare that has warmed Galician farmers for centuries during the region's damp, piercing winters; typically, it is a hearty stew of dry cured ham and mustard greens with boiled potatoes, but Freitas reimagines it as a mini-snack of thinly shredded dried pork that she fries into a nest-like shape and serves atop a crisp sheet of fried kale.
The richness that comes from that intersection of cultures is intense
The day I visited, lunch began with several of these bite-sized creations, which are meant to be eaten with your hands. They included a fresh fig filled with a parfait of duck liver, herbs and Pedro Ximénez wine – the dessert sherry adding its signature sweet and syrupy notes – as well as Freitas' version of nigiri, a single slice of monkfish liver soaked overnight in milk (the lactose-free kind, so that her customers with that dietary intolerance can still enjoy the dish). It was served atop a small mound of vinegared rice and a picture-perfect perilla leaf, the fish's surface glossy from a mahogany slick of sweetened soy sauce.
Monkfish nigiri: a single slice of monkfish liver soaked overnight in lactose-free milk (Credit: Sofia Perez)
The menu also included a small empanadilla – the spiritual love child of the puffed-up puri breads she sampled in India and Galicia's traditional large-format empanadas, pizza-sized pies stuffed with meat or fish mixed with a sofrito mixture that's heavy on the onions and peppers. It's unlikely that my Galician-émigré parents would have recognised their traditional empanada in Freitas' perfectly shaped globe filled with bacalao (dried and salted cod) and raisins, but the spirit of her dish felt very much in keeping with the character of Santiago, a city that has long been a crossroads for visitors from all over the world. "The richness that comes from that intersection of cultures is intense," she said.
Beyond the inspiration that she derives from local culinary traditions, her cuisine is also an homage to region's first-rate ingredients, like the produce she buys from the paisanas or grows in her parents' garden, and the pristine fish and shellfish harvested from the icy-cold waters off Galicia's jagged, inlet-carved coastline. During our market visit, Freitas stopped at Mari Carmen's stall and purchased a whole bonito, which appeared in my lunch, the fish cooked slowly under a salamander, lacquered with an amber soy-sauce-cured egg yolk and accented with katsuobushi (dried bonito flakes) – yielding an elegant balance of creaminess, salinity and smoke.
"I like to work with contrasts and complexity, but then there's also that bonito," she said. "I never would have offered it in the past, for fear it would seem too simple."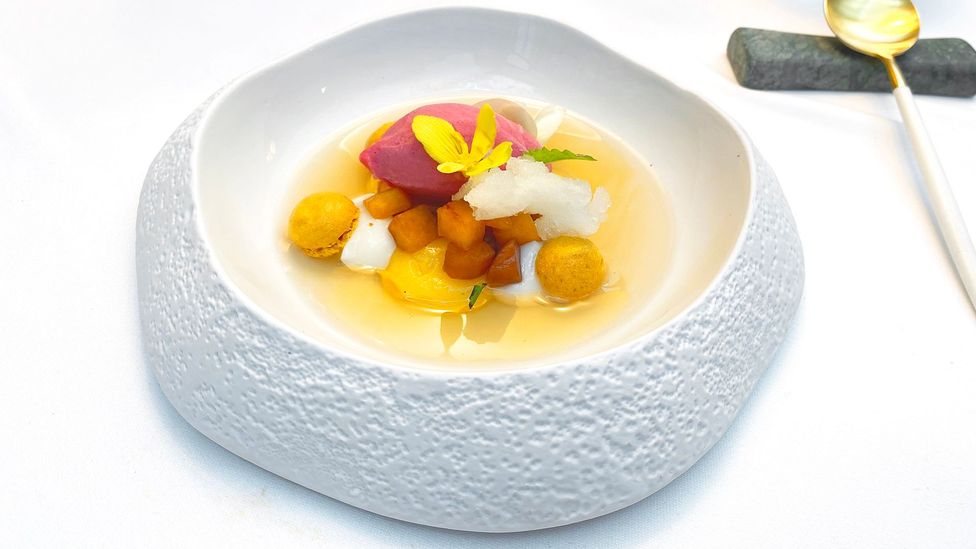 Stone fruits with basil, sansho pepper, pepper and peach sorbet (Credit: Sofia Perez)
While her success has earned her the freedom and courage to experiment, that confidence was hard won, forged by struggles like a host of serious food sensitivities – including but not limited to anisakiasis, as well as lactose, fructose and gluten intolerances – which often leave her physically depleted. Despite this, she considers herself lucky because her ailments are not the kind that regularly send people to hospital in anaphylactic shock. Somehow, she works around the situation, taking only miniscule bites of forbidden items while she is working the line or testing a new dish. The rest of her diet is extremely plain (mostly farm-raised chicken and fish whose provenance she can trace), and she never eats right before service, as a precaution.
Another challenge has come from being a woman in an industry dominated by men. The problem has never been her ability, but rather the attitudes and behaviour of some of her male counterparts. She told me about attending a big culinary event in Galicia a few years ago where she was one of four women (along with more than 20 men) and was assigned to lead a discussion on gender differences. When it came time for her to address the group, she spoke honestly about the ways that women are segregated into pastry and rarely allowed to lead the main area of professional kitchens. As she spoke, a significant number of the men openly jeered and mocked her, even some she had previously admired.
"These guys always talk about how their cooking has been inspired by their mothers and grandmothers," she said, "but then you ask them how many women work on their teams, and you just have to laugh."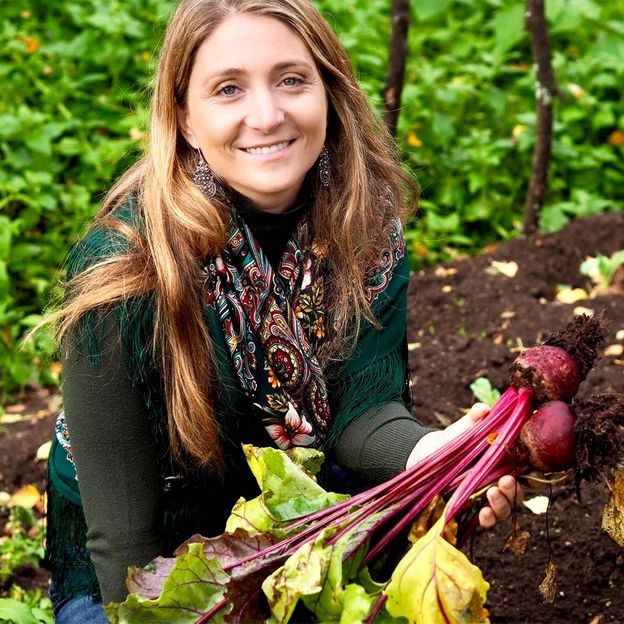 Chef Lucía Freitas sources produce from the market or grows it in her parents' garden (Credit: Raúl Villares)
Although the experience was crushing at the time, it ultimately motivated her to work even harder and lift other women up along with her. Now that she has hit her professional stride, she seems unstoppable.
These guys always talk about how their cooking has been inspired by their mothers and grandmothers, but then you ask them how many women work on their teams, and you just have to laugh.
Although Freitas thinks the attention chefs receive these days is absurd, she uses her platform to advocate for hospitality workers in general, and female producers in particular, making it a point to speak at high-profile events like FéminAs. At the first iteration of this now annual conference focused on women chefs, sommeliers, farmers, ranchers and others, held last autumn in the neighbouring region of Asturias, she encouraged participants to communicate with and promote each other across all branches of the culinary field. For example, when she is up on the stage for her culinary demos, she will often use dishware created by Galician ceramicists, and then share these women's stories with the audience.
Wherever she goes, she is a fierce and loyal supporter of Galicia's food producers and artisans, especially its farmers and fisherwomen, and she urges them to charge more for their premium goods. "Sometimes, a paisana will ask me to pay two euros for a product, and I'll say, 'No, I'm giving you four, because it's worth it. Value yourself, and value your work.'"
Freitas is a fierce and loyal supporter of Galicia's food producers and artisans (Credit: Paul Christian Gordon/Alamy)
It's a message she has carried halfway around the world, thanks to the support of an influential mentor named Mari Watanabe, a writer and food historian who Freitas refers to as her "Japanese mother". When Watanabe first visited A Tafona several years ago, the two women became fast friends. "I admired her strength of will, to be running her own restaurant at that age, and as a single mother," said Watanabe. "I also liked her minimalist style of cooking. It reminded me of Japan." She pointed out that the so-called Rias Coast of Japan's Iwate Prefecture was given that moniker due to its resemblance to Galicia's rías (inlets), like those of the latter's famed Rías Baixas wine region.
In 2018, Watanabe brought Freitas to Japan to speak at a conference she'd organised on the island of Hokkaido. One of only a few foreigners and the only woman to present, the Galician chef regaled the audience with tales of her team, her producers and her beloved homeland, a memory that stands out for Watanabe. "In Japan, we love our country, but that kind of direct connection to a specific region is not seen here very often, and I think it's beautiful. Lucía's passion for Galicia gives her a lot of strength, and it supports the work she's doing." 
On that trip and subsequent visits, Freitas met food producers, artisans and culinary peers all over Japan and shared her own experiences as a woman in the industry. She also told them about a Spanish organisation called Mujeres en Gastronomía, which ultimately inspired Watanabe and two of her friends to establish something similar in Japan, under the acronym WIG, or Women in Gastronomy.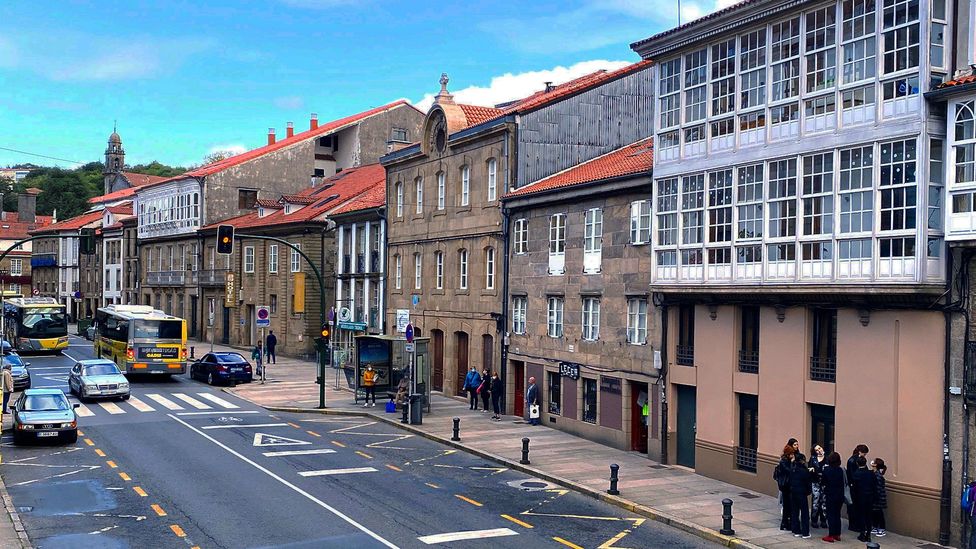 Chef Lucía Freitas' flagship restaurant, A Tafona, is located across the street from the Mercado de Abastos (Credit: Sofia Perez)
While Freitas has certainly influenced others, she has also gained a great deal from these interactions, but probably the most significant recent impact on her career has been the pandemic. Previously, she nearly lived (and sometimes slept) at her restaurant, but lockdown allowed her to spend uninterrupted days with Mauro, which radically altered her perspective. "It was the first time I really felt like his mother instead of the aunt who rarely gets to see him. I couldn't even take him to school before, because I was always working by then." Now that she has glimpsed an existence that is about more than just work, she won't go back. "To be happy in the kitchen, you have to be happy outside of it," she said.
To be happy in the kitchen, you have to be happy outside of it.
She has seen many talented female chefs leave the profession when they decide to have children, but they are not the only ones negatively affected by industry expectations. "These women want to be mothers, but beyond that, men today also want to be fathers," she said. "The pandemic has been very positive in this regard, because we all want a life that's bigger than our jobs. Which means I have to charge more to hire enough people so that each person doesn't have to work crazy hours. 
Earlier in her career, Freitas toiled in some hierarchical, almost militaristic kitchens, and she refuses to repeat the mistakes she witnessed. "When you mature, you realise that people are not more loyal to you because you're a jerk," she said. "My team is my family." Currently, all but one of those team members are women, and she ensures they don't get pigeonholed in the dessert realm, if they have other aspirations. (Even though Freitas and her original co-chef were equals, many people assumed he was the lead and she was the pastry chef, simply by virtue of their genders.)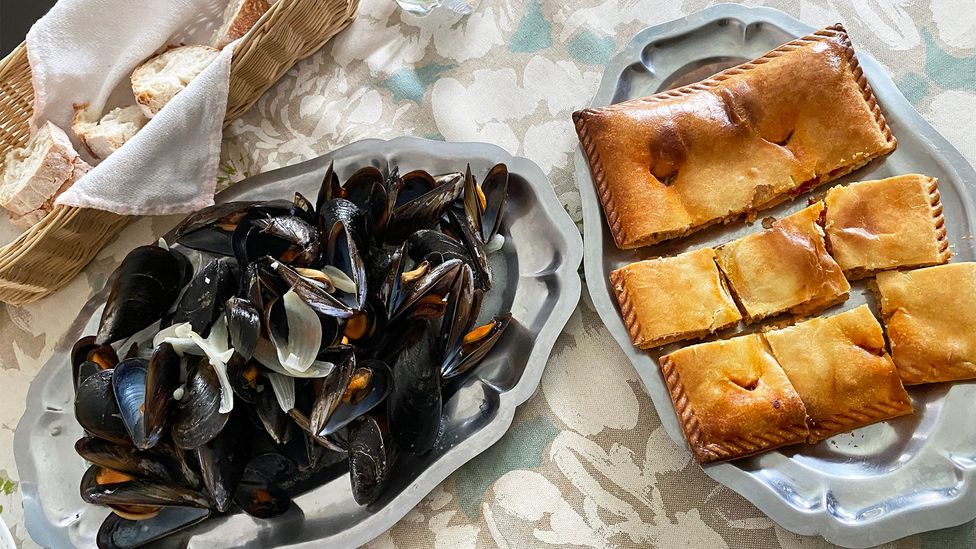 Mussels and traditional Galician empanada (Credit: Sofia Perez)
In a country where it's not unusual to start dinner at 23:00, she forbids customers from ordering her tasting menu after 21:30 so her staff can get home at a decent hour. "It doesn't matter if you're the King of Spain or the Pope," she said, adding that diners are informed of the rule when they make their reservations. "People understand schedules. The bank closes at 2pm [14:00], and if you get there at 2:10pm [14:10], the doors are going to be locked. Either we sell ourselves at any price, or we change the current reality."
As for her reality, Freitas continues to grow her mini empire. While designing the menu for New York's Tomiño gave her the chance to branch out to traditional Galician food, at Lume, which she opened in July 2020 and is located in the Mercado, she's created a "gastronomic bar" with a six- to eight-course tapas menu that's all about fusion. Her newest spot, Lume Next Door, which is expected to open by the end of the year, will focus on à la carte options of grilled dishes – such as pizzas made with local grains, including Galician staples like rye and corn, as well as local seawater and creamy Arzúa-Ulloa cow's-milk cheese in lieu of mozzarella. She also makes gourmet ice creams for home delivery, as well as other artisanal products that are sold directly to consumers, such as chocolates and her gorgeous turrón (nougat), a Spanish Christmas treat.
Although she just turned 40 in March, Freitas shows no signs of slowing down. A few days after her birthday, the global Paris-based Académie Internationale de la Gastronomie named her "Chef of the Future". While an honour like this might exert pressure on some, she seems unperturbed by the gauntlet that's been thrown at her feet. "Your food evolves with your life," she said, "and I'm not afraid of anything now."
---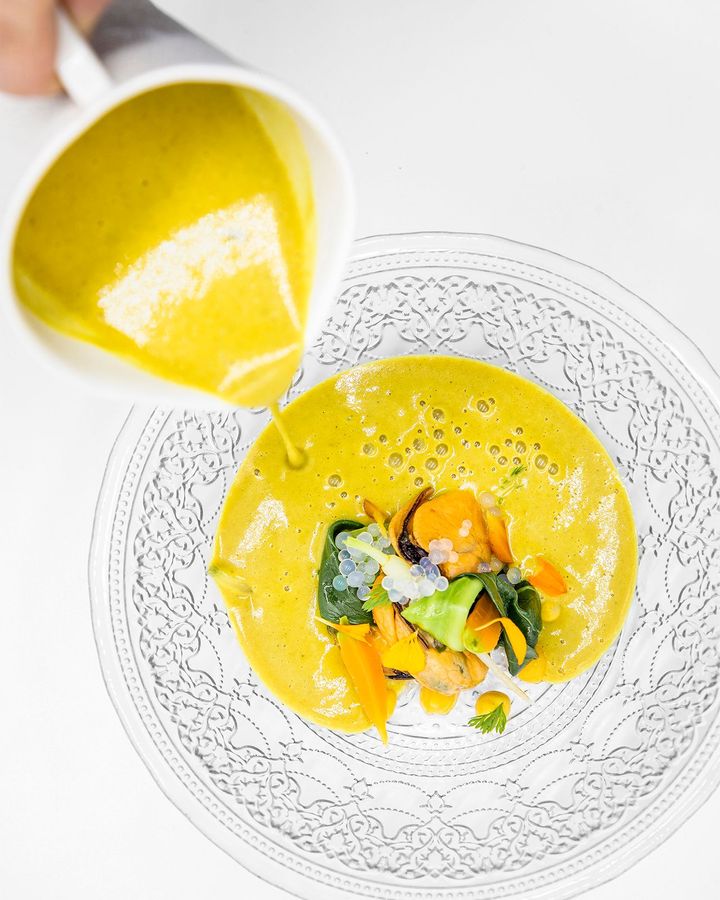 Galician mussels in citrus escabeche with red lentil soup (Credit: Roi Martínez)
Galician Mussels in Citrus Escabeche with Red Lentil Soup (serves 4)
By Chef Lucía Freitas (adapted for BBC Travel)
Ingredients for the composed dish:
20 mussels in citrus escabeche (see below for sub-recipe)
300g of red lentil soup (see below for sub-recipe)
120g young carrots
80g bok choy
40g grapefruit segments
40g blood orange segments
Coriander leaves, carrot fronds and mini-basil (for garnish)
Orange peel, freshly zested (for garnish)
Mussels in citrus escabeche
Ingredients:
2 leeks
3 carrots
3 yellow onions
1 litre of olive oil (not extra virgin)
1 head of garlic, split in half
1 lemon (peel and juice)
10 black peppercorns
4 green cardamom pods
1 stalk of lemongrass, slightly crushed to release the flavour
2 makrut lime leaves
15g chopped fresh ginger
15g chopped fresh galangal
150ml dry white wine
250ml apple cider vinegar
25g pimentón (smoked paprika)
500g cleaned mussels
Instructions:
Julienne the leeks, carrots and onions. Confit the vegetables in the oil for 20 minutes over a low heat along with the garlic, lemon (peel and juice), pepper, cardamom, lemongrass, lime leaves, ginger and galangal. Once the vegetables are poached, pour in the wine and vinegar to stop the cooking process, and bring the whole mixture to a boil. After it boils, remove from heat and stir in the pimentón. Let the mixture rest overnight in the fridge.
The next day, strain the mixture through cheesecloth, reserving the vegetables and escabeche liquid separately. Steam the mussels to open them and extract them from the shells. Add the mussels to the escabeche liquid and let them rest in the fridge for at least 24 hours. 
Red lentil soup
Ingredients:
300g red lentils
1 litre vegetable stock
2 tbsp turmeric powder
1 bay leaf
1 tomato
1 yellow onion
2 garlic cloves
35g fresh chopped ginger
1 tbsp cumin seed
1 tbsp mustard seed
1 dried guindilla pepper
1 bunch of fresh coriander, chopped
1 tbsp pimentón (smoked paprika)
1 tbsp garam masala
1 tbsp Yondu sauce (a naturally fermented, gluten- and lactose-free seasoning made from soybeans and vegetable stock; you can substitute with half the amount of soy sauce)
Instructions:
Cook lentils in the stock, adding the turmeric and bay leaf. Finely dice the tomato, onion and garlic, and sauté in olive oil like a sofrito until lightly caramelised. Add the ginger, cumin, mustard, guindilla and coriander, and cook over low heat for a few minutes. Stir in the pimentón, garam masala and Yondu sauce, then add the lentils and broth. Allow the mixture to cook for 10 more minutes over low heat so that the spices release their flavours, taking care not to burn them. Purée everything in a blender, strain and reserve soup for the plating of final dish.
Assembly and plating of final composed dish:
Purée the reserved vegetables (the ones that were strained out of the escabeche) until creamy. Briefly cook the carrots and bok choy lightlyin a pan or steamer and dress them with some of the escabeche liquid. Drizzle ¼ of the vegetable purée into each person's dish, top with carrots, bok choy and mussels. Add a few slices of grapefruit and blood orange, as well as some coriander, carrot fronds and mini basil leaves. Add some freshly zested orange to each dish and then pour one-fourth of the red-lentil soup into each dish. 
BBC.com's World's Table "smashes the kitchen ceiling" by changing the way the world thinks about food, through the past, present and future.
--- 
Join more than three million BBC Travel fans by liking us on Facebook, or follow us on Twitter and Instagram.
If you liked this story, sign up for the weekly bbc.com features newsletter called "The Essential List". A handpicked selection of stories from BBC Future, Culture, Worklife and Travel, delivered to your inbox every Friday.