In a world-first initiative, visitors to Palau will be offered exclusive experiences based on how they treat the environment and culture, not by how much they spend.
D
Despite being home to fewer than 20,000 residents, the Republic of Palau is making an outsized impact to preserve the planet. Not only did the country – made up of 300-plus islands in the West Pacific – adopt the world's first anti-nuclear constitution in 1979, but it also implemented the Palau Pledge in December 2017, which requires international visitors to sign a pledge stamp in their passports that promises the children of Palau that they will "tread lightly" and "preserve and protect" the islands.
Now, as the archipelago opens up to tourism again after two long years of lockdown, a new programme called Ol'au Palau is offering a world-first initiative of "gamifying" responsible tourism, whereby travellers will be offered exclusive experiences based on how they treat the environment and culture, not by how much they spend. 
The programme, managed via a custom app that's launching in the coming months, offers points to those who treat the island nation gently and respectfully by making sustainable decisions like using reef-safe sunscreen, visiting culturally important sites (such as the Belau National Museum and Bai, the oldest in Micronesia) and eating sustainably sourced local food.
Guests can then redeem their points to unlock cultural and nature-based experiences that are normally reserved for Palauans and their close friends, such as taking an unmarked hike, swimming at a secret cave, sharing a meal with locals and elders or casting a reel in a secluded fishing spot. It also promises new experiences that may have once been rare for tourists to partake in, including a first birth ceremony, which is an important cultural event.
The idea for the Palau Pledge came about in 2015, by which time tourism had reached 150,000 visitors annually – more than seven times the country's population – many of whom didn't understand the fragile ecosystem or how important sustainability was to residents. While Palauan culture values hospitality and treating visitors with respect, locals could see how under-educated visitors were eroding their environment.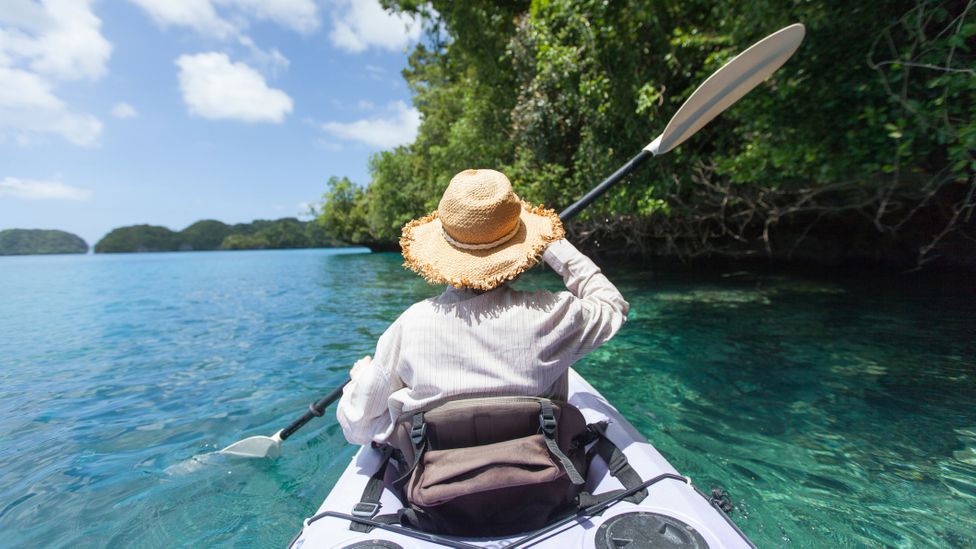 The Ol'au Palau programme was unveiled last month at the Our Ocean Conference in Palau (Credit: Ippei Naoi/Getty Images)
To combat this, Palau needed a way to educate travellers and have them earn the privilege of being a trusted friend, said resident Laura Clarke, who co-founded the Palau Legacy Project in 2020 with Palauan Jennifer Koskelin-Gibbons to spearhead these preservation initiatives. With Clarke's background in marketing and advertising, and Koskelin-Gibbons' work in national preservation efforts, Ol'au Palau was born.
"Ol'au is an informal way for us to call out to someone we know such as a friend or family to grab their attention," explained Koskelin-Gibbons. "We may use it to call you to join in on a barbecue, or if we're on a beach and you are coming by on your boat, I can call out to invite you over to join in on our family fun."
Why should I go now?
As an economy that relies heavily on tourism, Palau was severely impacted by Covid lockdowns. The country opened back up in April 2022 to fully vaccinated travellers, and residents are eager to re-introduce the world to its remote white-sand beaches and wildlife-rich dive spots, which have earned it the nickname "the underwater Serengeti". A battleground in World War 2, Palau also has both Japanese ship and plane wrecks that draw history-buff divers. In addition, the country recently established the world's first National Marine Sanctuary, banning any type of extraction (including commercial fishing) in 500,000 sq km of ocean, making it an ideal spot to catch a glimpse of one of 135 species of sharks and rays that now thrive here.
Ol'au in Palauan means to invite someone into your space
"This year has been good. The corals are flourishing and the reefs are beautiful," said Scott Arni, who captains the Palau Aggressor II ship and has led dive expeditions in Palau for 10 years. "The diving has been amazing with loads of sharks and great manta ray encounters at German Channel [a human-made channel within Palau's south-west barrier reef]."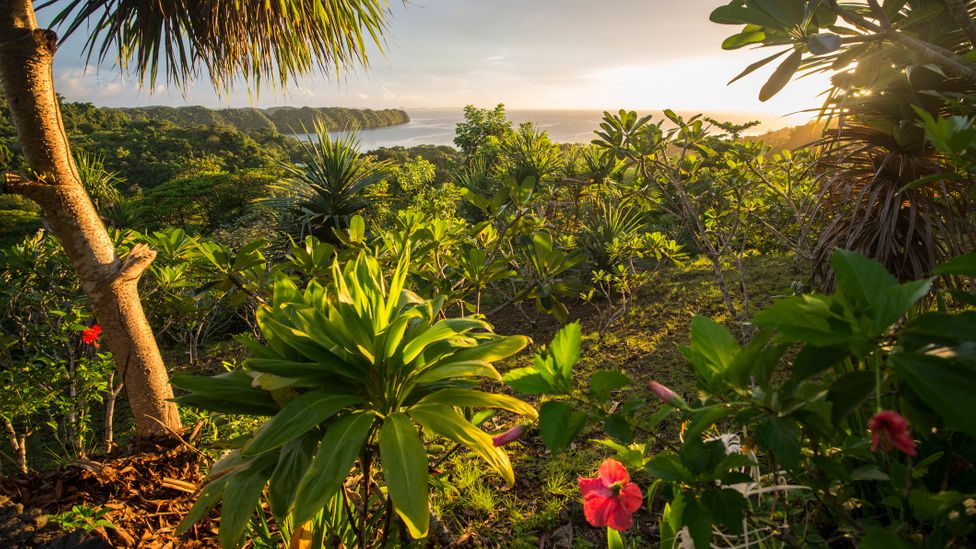 Responsible travellers will be able to unlock exclusive cultural and nature-based experiences (Credit: Colors and shapes of underwater world/Getty Images)
Ol'au Palau rewards can be tailored to what the visitor is interested in, whether that's diving, hiking or engaging with the local community. Clarke recommends a 10-day to two-week trip to really get the most out of the programme, especially since travel time to the remote archipelago ­– located 890km east of the Philippines and 1,330km south-west of Guam – can eat into your stay. "You want the first five days to start collecting your points, and you want a good amount of time, like five or six days, to redeem them," she advised.
Travel with no trace
Unsurprisingly, sustainability is core to many businesses here, and Palau's commitment to responsible travel makes it easy to find companies that adhere to green practices at any budget. Plus, staying and dining at these places earns points in the Ol'au Palau programme.
For those looking for luxury, Koskelin-Gibbons recommends the oceanside Palau Royal Resort on Malakal Island. Her pick for travellers on a budget is the family-run VIP Hotel, located in the heart of the country's commercial centre, Koror. Both are part of the Palau Business Pledge (a sub-programme of the Palau Pledge), which means they actively work to minimise their environmental impact while educating guests to do the same through signage and education on the importance of the environment.
Eating local fish and produce is one of the easiest ways to sustainably support the economy. Recently named the country's "national soup", demok, made from taro leaf, coconut broth and land crab, delights both locals and visitors alike. "Not only is it healthy, it's amazingly hearty and lovely after a long day out on the water," said Koskelin-Gibbons. "The family-run Penthouse Hotel Restaurant can make it in a minute and sources the ingredients from their own family members."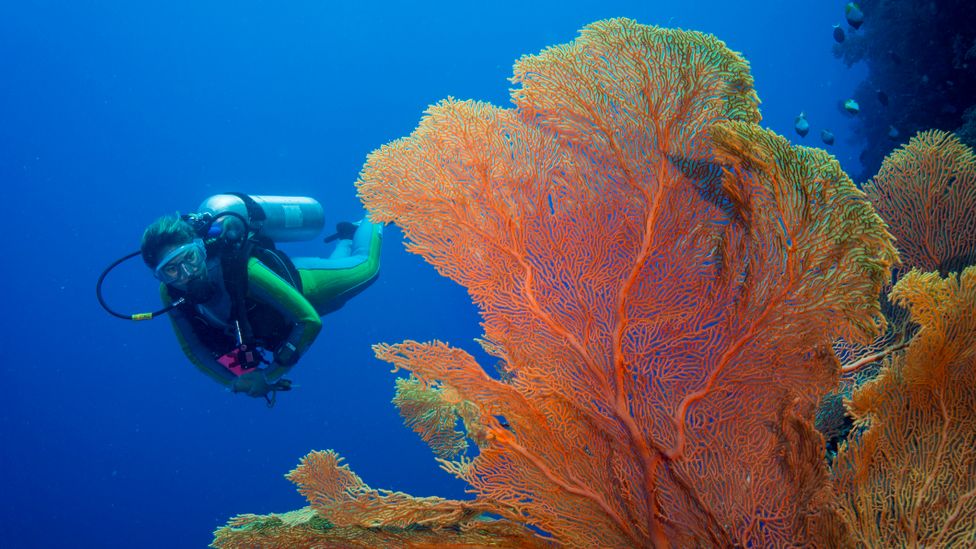 Palau is renowned for its spectacular diving and marine life (Credit: Westend61/Getty Images)
Similarly, seafood restaurant Drop Off on Malakal Island displays daily photos of the fisherman who caught your meal (look for shots of the owner, he's a sport-fisherman who brings in the Sunday catch).
To explore the island above and below, Clarke recommends the 100% Palauan-owned Sam's Tours. Not only do they hire local guides for their kayak, hiking and dive excursions, but they also incorporate sustainable practices within their tours (like eschewing single-use plastics and serving locally made lunches), enforce environmental rules and operate with a zero-trace policy.
Know before you go
In addition to vaccination, Palau currently requires visitors to submit a negative PCR or antigen test a few days prior to departure, and to be tested again following their arrival. Palau was one of the last countries to be affected by Covid, with its first case only emerging in August 2021. It is especially vital that visitors remember that there's not a "new normal" here yet, and that the small community is still rightfully wary of exposure.
Nearly 5,000 residents (25% of the population) have contracted the disease, and six residents have died. In such a small community, the impacts are widely felt.
"We are still mourning the loss of those who have died whom we know and care about. Especially in a small community, where everyone knows everyone," said Koskelin-Gibbons. "So please wear your mask and sanitise. It will show you respect the community and are doing your part."
BBC Travel's As the World Opens highlights the latest destinations opening their borders and explores the exciting things travellers can do there – safely and sustainably.
--
Join more than three million BBC Travel fans by liking us on Facebook, or follow us on Twitter and Instagram.
If you liked this story, sign up for the weekly bbc.com features newsletter called "The Essential List". A handpicked selection of stories from BBC Future, Culture, Worklife and Travel, delivered to your inbox every Friday.