BBC Culture film critics Nicholas Barber and Caryn James pick their highlights of the year so far, including Top Gun: Maverick, Turning Red and Everything Everywhere All at Once.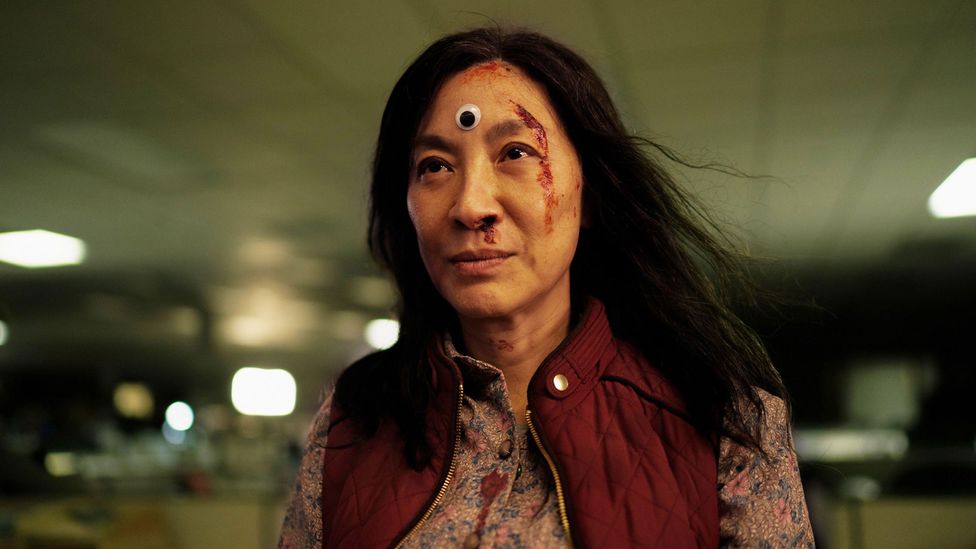 Everything Everywhere All At Once
Delightfully bonkers on the surface, this inventive extravaganza from the directing team called Daniels (Daniel Kwan and Daniel Scheinert) has a deep layer of family feeling and a well-earned emotional pull at the end. Michelle Yeoh is ideal and comically straight-faced as Evelyn, a harried laundromat owner with tax problems who enters a multiverse of alt-Evelyns. Exploding with colour, at times the film is a phantasmagoria of morphing identities and shifting universes – in one Evelyn does laundry, in another she's a movie star ­– yet it always remains true to its believably humane characters. It's the rare art film that can make audiences cry, and also rake in a ton of money, nearly $60 million at the US box office so far.  (CJ)
Top Gun: Maverick
Even those of us who weren't fans of 1986's Top Gun had to admit that when Pete "Maverick" Mitchell (Tom Cruise) returned to the US Navy's elite fighter-pilot school, the resulting blockbuster was touching, thrilling and pretty much flawless. So ... how do you make a successful sequel to a film that came out more than 30 years ago? Simple, really. You bring back all of the elements that people might remember from the original, but ensure that every single one of those elements is 10 times better, whether it's a slow-burning relationship or a supersonic aerobatic display. (NB)
Happening
The past is a template for the present in Audrey Diwan's eloquent, heart-wrenching story of an ordinary college student, Anne (touchingly played by Anamaria Vartolomei), desperate to get an abortion in France in 1963. Knowing that motherhood would destroy her future, Anne unhesitatingly seeks out illegal help, in detailed scenes that expose the hypocrisy of the medical establishment and the callousness of society at large. Diwan's measured approach reflects the heroine's quiet determination, avoiding preachiness and melodrama even as Anne races against time toward a suspenseful ending. Artful and socially resonant, Happening is one of the most poignant and moving films of the year. (CJ)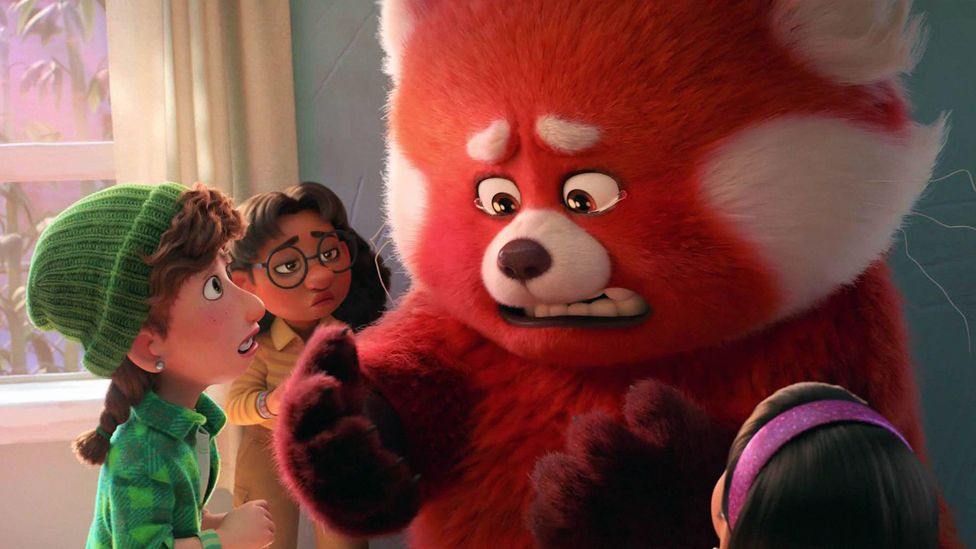 Turning Red
The animated feature film to beat at next year's Oscars, this joyous Pixar coming-of-age cartoon introduces a 13-year-old Chinese-Canadian (voiced by Rosalie Chiang) who transforms into a giant fluffy red panda whenever she is stressed. Her fast-moving misadventures are rendered with all the expertise you would expect from Pixar, but Turning Red is more personal than the studio's other releases. From its multi-cultural urban setting to its positivity about being a proudly nerdy teenage girl, everything in it seems to come straight from the heart of its director and co-writer, Domee Shi. It already feels like a classic. (NB)
Navalny
If Russia had never invaded Ukraine, this documentary about the Russian politician Alexei Navalny would still stand as a gripping, intimate journey with one of Vladimir Putin's most outspoken critics. The film follows him after he was poisoned by a nerve agent in 2020, and received medical treatment in Germany. Navalny himself often speaks directly to the camera – witty and uncompromising as he urges the director, Daniel Roher, not to be boring. In a stunning episode, he pretends to be a Russian government official, and phones a real operative who describes exactly how the Russians poisoned Navalny. Later, the cameras follow him back to Russia. He was quickly put in prison, where he remains. Time has only made this trenchant film more effective. (CJ)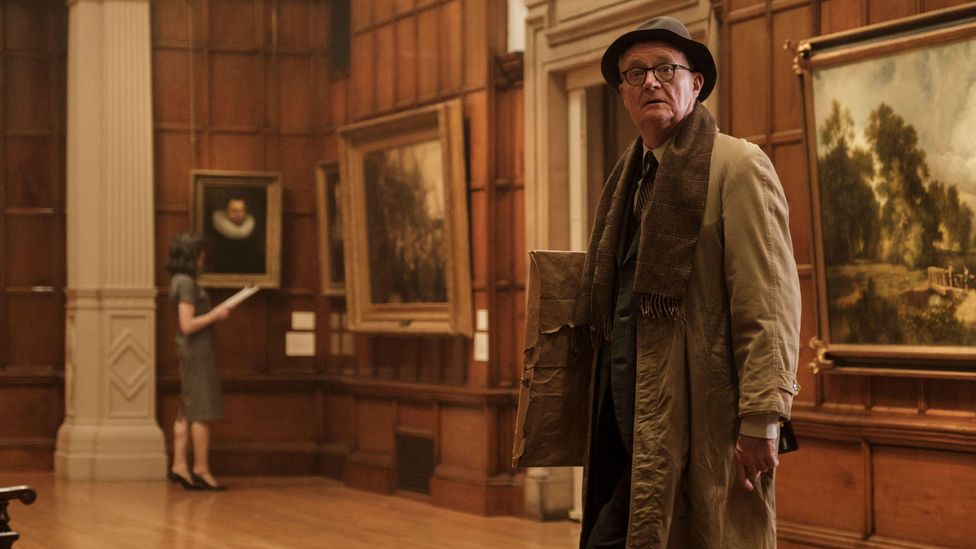 The Duke
Kempton Bunton, played by Jim Broadbent on irresistible form, is a retired Newcastle taxi driver who confesses to stealing a Goya portrait of The Duke of Wellington from London's National Gallery in 1961. He climbed through one of the Gallery's toilet windows, he explains, because he was upset about the cost of television licence fees for pensioners. Based on true events, The Duke is a witty, well crafted, cosily nostalgic British comedy that nonetheless makes a few sharp political points about establishment snobbery. Sadly, it was the last feature film to be directed by the late Roger Michell (Notting Hill / Venus). (NB)

Men
The latest evidence that Alex Garland (Ex Machina, Annihilation) is one of the most audacious directors around, Men is a sly take on sexism and male privilege that is by turns witty, horror-filled, supernatural and socially astute. Jessie Buckley solidly grounds the drama as Harper, alone in a country house as she recovers from a personal trauma, and Rory Kinnear vibrantly plays multiple toxic males, from a schoolboy to a menacing vicar. Seen entirely from Harper's point of view, the film toys with genres but is also a thoughtful exploration of perception and reality, of guilt and grief. (CJ)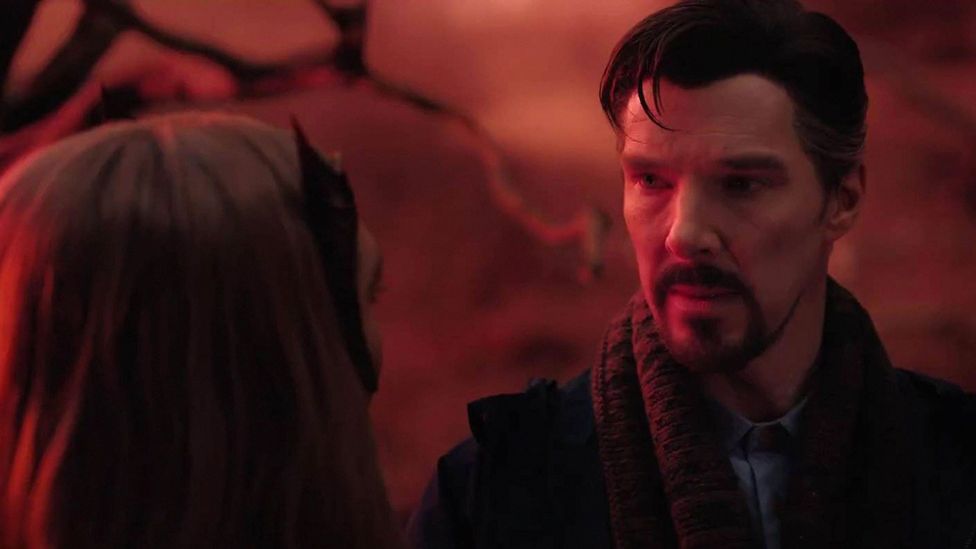 Doctor Strange in the Multiverse of Madness
It may not be the year's best science-fiction extravaganza about alternate realities – that honour goes to Everything Everywhere All At Once – but Doctor Strange in the Multiverse of Madness is deliriously entertaining in its own right. The weirdest and scariest of Marvel's blockbusters, it was directed by Sam Raimi, who made both the Evil Dead and the Tobey Maguire Spider-Man trilogy, and he fills the screen with his love of classic superhero comics and horror movies. The film isn't just an exuberant celebration of pulp fantasy, though. There are some poignant musings on family, faith and sacrifice in among the flying zombies and green-furred minotaurs. (NB)

The Unbearable Weight of Massive Talent
What Jordan Peele's smart, audience-friendly films are to artistic horror, this clever, constantly entertaining meta-movie is to the buddy-action genre. Nicolas Cage is hilariously tongue-in-cheek as a fictional version of himself, hired to attend the birthday party of man who might be a drug lord (Pedro Pascal). In the meta moments, Nick gets career advice from his Wild at Heart era younger self, called Nicky. And inevitably, the plot turns into a pulpy Cage action movie. You don't have to catch every playful allusion to enjoy the film, but they are everywhere, straight through to the final credits, in which we learn that Nicky is played by one Nicolas Kim Coppola (Cage's birth name). (CJ)
Onoda: 10,000 Nights In The Jungle
Lieutenant Hiroo Onoda was a Japanese "holdout", ie, he refused to believe that World War Two had ended in 1945, and he carried on a guerilla campaign in the Philippines until 1974. This three-hour survival epic, directed by Arthur Harari, conveys the story's mind-boggling scale and strangeness, but it's also a sympathetic character study of Onoda (played by Yuya Endo and then, in later years, by Kanji Tsuda). The lieutenant is presented as naive and misguided, but not too different from anyone who clings to their own warped worldview, regardless of all the evidence to the contrary. (NB)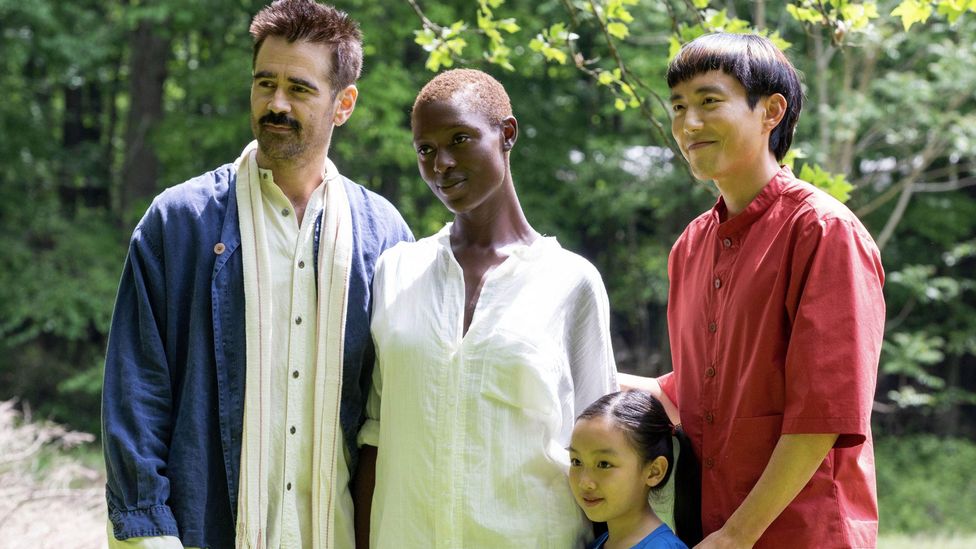 After Yang
Let's just flatly say: Kogonada is a genius. The director of the stylish character piece Columbus (2017), and a major force behind the exquisite Apple TV+ series Pachinko, he breathes new life and visual brilliance into After Yang's tired-sounding premise of an artificial intelligence with feelings. Colin Farrell is affecting as a father trying to repair his young daughter's beloved AI robot, Yang, played by Justin H Min with the unmistakable glimmer of a human soul. Filmed in a style that is still and beautiful, infused with golden light, and set in a timeless near-future, this transcendent film is stunning, from the exuberant family dance competition in the opening credits to its revelatory ending. (CJ)
True Things
Harry Wootliff's first film, Only You, put a romantic-comedy scenario into a real-world setting where happy endings were hard to come by. Her follow-up, adapted from a novel by Deborah Kay Davies, has a similar balance of heart-fluttering passion and unvarnished contemporary reality. Ruth Wilson stars as a bored benefits-office clerk who is pulled out of her workaday life by a dangerously seductive chancer played by Tom Burke. Glowing with dreamy, intimate close-ups, True Things is a shrewd and sensual commentary on the lies we tell ourselves about the people we think we love. (NB)
Love film and TV? Join BBC Culture Film and TV Club on Facebook, a community for cinephiles all over the world.
If you would like to comment on this story or anything else you have seen on BBC Culture, head over to our Facebook page or message us on Twitter.
And if you liked this story, sign up for the weekly bbc.com features newsletter, called The Essential List. A handpicked selection of stories from BBC Future, Culture, Worklife and Travel, delivered to your inbox every Friday.