A
As I walked up the stairs and stepped inside Meza Malonga, I was instantly drawn into the chic, minimalistic dining room. White brick walls were accented with leafy plants, bold paintings and wooden shelves framing decorative gourds, beaded necklaces, woven baskets and earthen ceramics from around the African continent. Windows opened to a mesmerising view over the lush hills of Kigali, a vivid green by day and aglow with the twinkling lights of houses by night. A few wooden tables were spread out across the intimate space as soulful lyrics and low strums of the ngoni (a traditional stringed Malian instrument) reverberated in the background. 
"Meza Malonga isn't a restaurant; it's a home where people come to experience food," said chef Dieuveil Malonga, as he welcomed me. Tucked into quiet streets of the Remera neighbourhood in Kigali, Rwanda, it's also an innovative synthesis of food and storytelling infused with African culture.
In the Bantu language, meza means "table". What's on Malonga's table then? Each day brings a new array of colourful creations, crafted from the fresh bounties of the season. The menu is ever-evolving as the chef refines his concept of Pan-African cuisine. From sorghum bread topped with delicate white moringa flowers and whipped avocado cream to shrimp dusted in nutty ground djansang seeds, each carefully curated course tells a story – or two – about Africa.
The drought-resistant moringa plant is native to Africa (and Asia). The djansang seeds originate from Cameroon. The shrimp is sourced from the shores of Mombasa, Kenya. And the sorghum grain has 5,000-year-old roots in Ethiopia.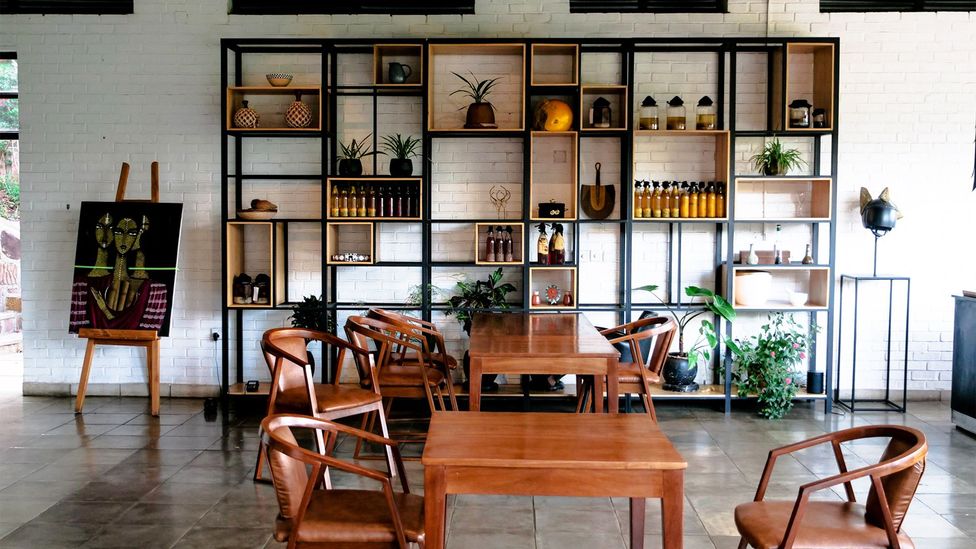 Meza Malonga in Kigali has a chic, minimalistic dining room (Credit: Alicia Erickson)
Malonga blends culinary influences from the Maasai, Bantu and Xhosa peoples – and beyond – as he interprets their diverse flavours, ingredients, history and ecosystems to create an Afro-fusion gastronomic experience. His culinary ethos: to incorporate indigenous ingredients from across the continent into recipes originally made by grandmothers – and elevate them using modern techniques.
"One of my favourite parts of running Meza Malonga is when people who know African cuisine say that my food reminds them of something they ate when they were young, something made by their grandmother," Malonga said. "That is so amazing to me."
My eyes were drawn to rows of glass bottles filled with bright orange, pink and yellow liquids. "This is an experiment that isn't quite ready," Malonga said. "We are fermenting passionfruit, tree tomato [a local Rwandan fruit deeply red in colour and loosely resembling a plum] and other juices from local fruits. For this project, we use old recipes we find here in Rwanda. We travel between villages and learn how to ferment sorghum, maize, banana and other fruits."
So far, he has experimented with more than 25 ingredients, drawing on a traditional process that involves fermenting fruits and grains with spices such as mbongo [also known as alligator pepper] from Cameroon, or sorghum, for up to a week. After removing the spices, he pasteurises the liquid, which has by now become alcoholic. Eventually, Malonga hopes to pair each of these homemade liquors with a food course.
Malonga is inspired by Africa's diversity and breadth of ingredients (Credit: Meza Malonga)
These rural areas don't always have electricity, so food preservation is very important. In addition to fermentation, Malonga has also learned how to dry vegetables, fish and meat, which he said not only preserves the food but also "enhances flavours".
Although he was born in the Republic of Congo, Malonga moved to Germany when he was 13, where he longed for his grandmother's cooking from back home and reminisced over ingredients like cassava leaves, okra, wild mango and pineapple. From a young age, he had a distinct love for food, and it was an obvious choice to follow a culinary career. By age 15, he enrolled in culinary school at Adolph-Kolping-Berufskolleg in Munster, Germany. Although he later worked in some of Germany's Michelin-star restaurants, including Schote, Aqua and La Vie, where he quickly moved up the ranks, he dreamt of opening his own place, one that reflected the flavours and memories of his childhood.
Upon returning to Africa in his mid-20s, Malonga began exploring different regions and became inspired by the diversity and breadth of ingredients and culinary traditions. For two years, from 2015 to 2017, he travelled to 48 African countries to learn about the continent's complex and diverse web of food cultures found in the fields, the villages and the way food is celebrated.
Malonga was particularly inspired by West African nations. Cameroon was the first country he visited upon his return, which he described as being "like Africa in one country". He said, "They have such amazing food diversity and use many ingredients and spices. It is like artistry. The ecosystems they have are so diverse. In the north, it is a desert, in the middle it is rainforest, in the south is the Congo River."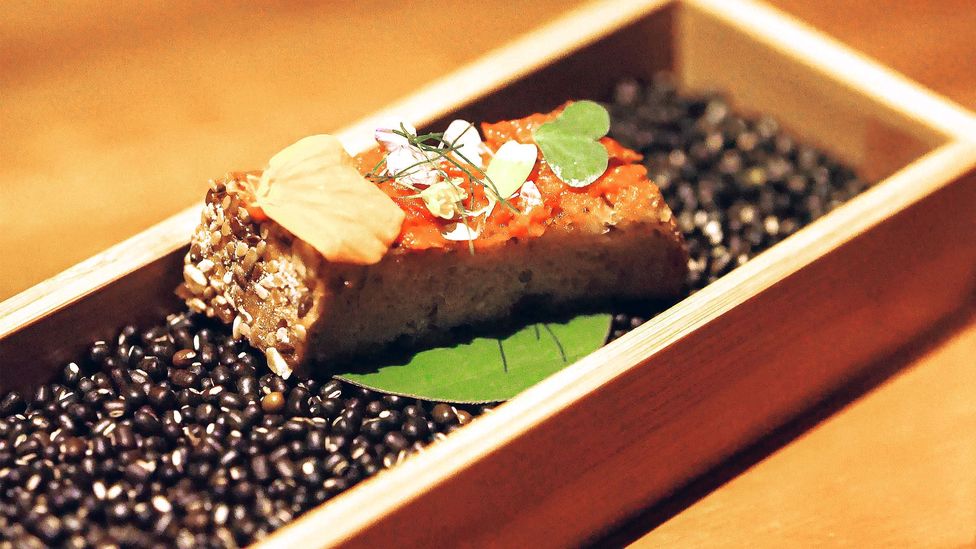 Sorghum bread with moringa flowers on bed of seeds (Credit: Alicia Erickson)
Malonga was also amazed by the size and diversity of Nigeria, where he fell in love with spices like uziza leaves (pale green leaves with a peppery flavour), ehu seeds (red spotted seeds with an aroma and flavour similar to nutmeg) and fufu, a thick, dough-like West African staple made from boiled and pounded cassava and plantain, or from cassava or maize flour. And in the Ivory Coast, he was enamoured by the fish dishes cooked in groundnut sauces and the quality of the cacao.
It's not just about the dish but the stories and the way each place celebrates food that I fall in love with
When asked about a favourite dish, he simply smiled and replied, "It's not just about the dish but the stories and the way each place celebrates food that I fall in love with."
Of all the countries he explored, why did the chef launch Meza Malonga in Rwanda? The answer lies in Rwanda's Northern Province, with its towering mountains, volcanic lakes, lush jungle and terraced farms rich in fertile soil. "On my first visit [in 2017], I was in love with [the region of] Musanze. With the climate, with the peace and quiet. I feel at home there," he said. He returned to the region each year to study the soil and climate before putting down roots and opening the Pan-African restaurant in Kigali in early 2020.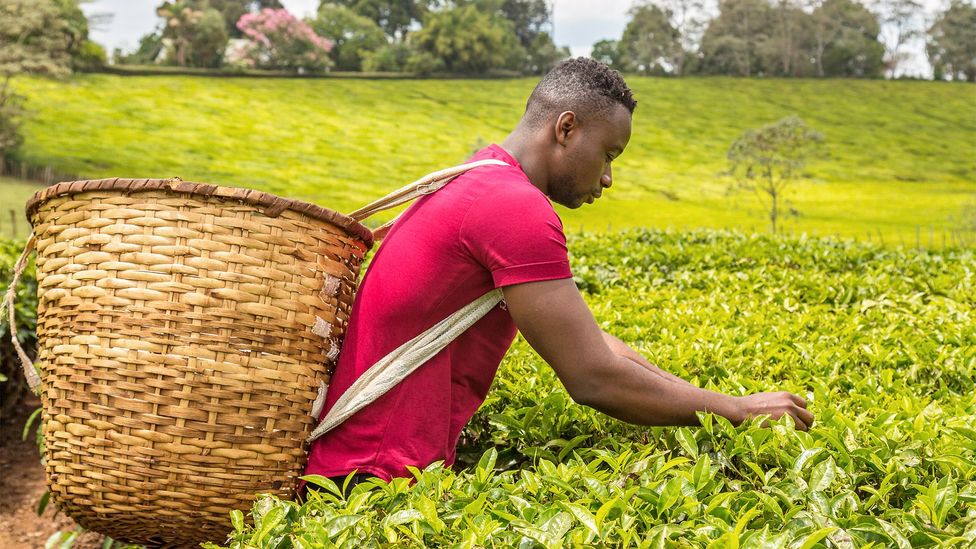 Malonga owns two farms where he grows fruit, vegetables and herbs (Credit: Meza Malonga)
As fresh, local ingredients are key to his cuisine, Malonga also owns farms in Rwanda – one in Musanze and another in the district of Bugesera in the Eastern Province – where he grows fruit, vegetables and herbs. Rows upon rows blossom with purple sweet potatoes, black maize, okra, Malabar spinach and galangal, to name a few.
Meza Malonga doesn't have a set menu. Instead, each morning, Malonga and his team – a handful of chefs from around East Africa – draw inspiration from the fresh ingredients available that day and start experimenting in what he refers to as his "innovation lab": an open kitchen where guests can get a front-row view of them preparing each course with impressive precision.
"Tonight, we are serving eight or nine courses – I haven't quite decided yet," Malonga said the day I was there.
After carefully rolling ribbons of vegetables and drizzling fragrant sauces, Malonga and his team meticulously arranged intricate displays of food on ceramic plates, wooden trays filled with seeds and beds of leaves. The result was a collection of dishes that were as aesthetically appealing to the eye as they were pleasing to the palate.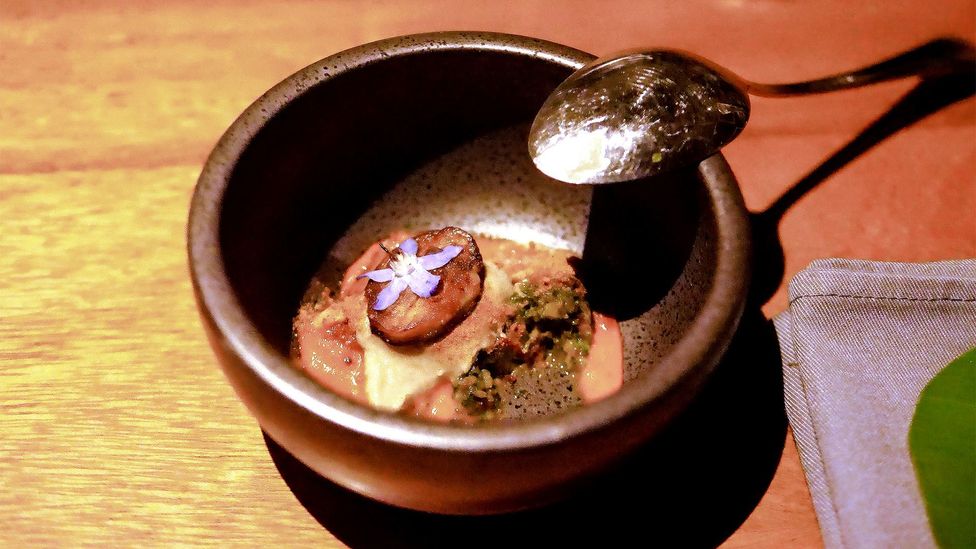 Eggplant tartare with cream of red pepper topped with plantains and herbs (Credit: Alicia Erickson)
I slowly ate my way through an impressive succession of courses. A tomato-encrusted sorghum bread that was crisp on the outside and light and airy on the inside. An eggplant tartare with cream of red pepper topped with plantains and herbs. Plantain-stuffed ravioli paired with caramelised onion, pickled red onion, puréed beans and carrot. And that was just the beginning.
After a passionfruit sorbet palate cleanser, I moved onto the main courses: grilled quail set on a base of sweet parsnip cream, fig, cucumber and hibiscus, and drizzled with a tree tomato sauce. A tender slice of beef fillet flavoured with garlic and a blend of earthy Nigerian spices served on a thin, crunchy slice of butternut squash. And finally, two desserts that included a refreshing mango sorbet topped with a delicate sweet potato foam as well as a chocolate bread accompanied by rich caramel and peanut crumbs.
Chefs like Malonga are transcending global misconceptions about African food
Alice Coulson, a chef and nutritionist who grew up in Kenya, believes that Malonga's attempt to put Pan-African cuisine on the map, through the use of ingredients and dishes sourced from so many diverse countries, is significant. "Although increasingly chefs throughout Africa are gaining inspiration from their own countries and cultures in their cooking and producing incredible results, Malonga is the first chef to explore Pan-African cuisine on this scale in terms of his goals, his travels and the food he produces," she said. "Chefs like Malonga are transcending global misconceptions about African food and are showing what the continent has to offer, which is of vital importance to put African cuisine at the forefront of gastronomy."
Other chefs are also slowly contributing to the rise in Pan-African cuisine. Coulson for one is in the process of launching her own venture, ASILI (meaning "nature" in Swahili), through which she hopes to capture the "massive diversity that Pan-African food offers, from subtropical South Africa to the Northern Sahara and everything in between". ASILI will initially sell nutrition and sustainability-focused foods in Kenyan shops, but Coulson plans to eventually open a restaurant.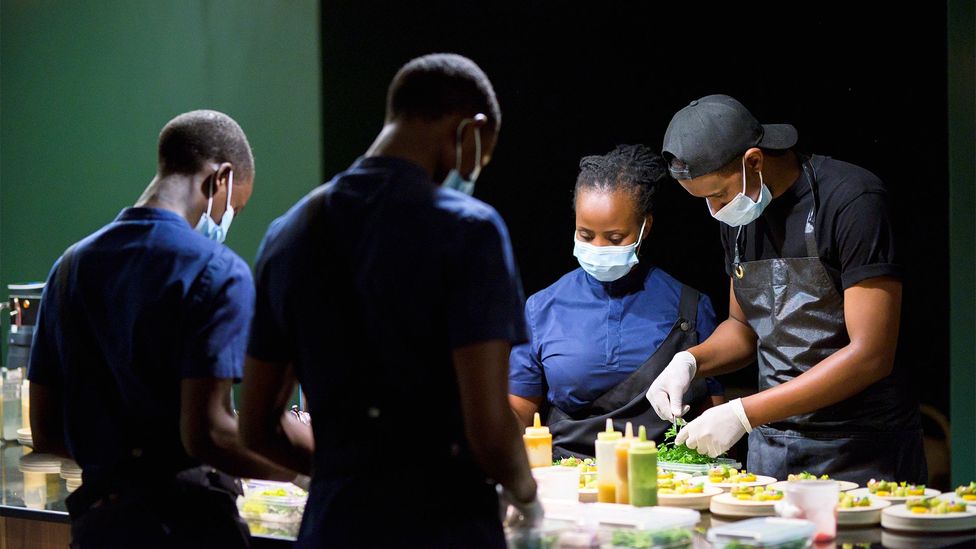 Dieuveil Malonga and his team experiment in what he refers to as his "innovation lab" (Credit: Meza Malonga)
Meanwhile, outside of the continent, a small but growing movement among African diaspora chefs is taking root. Alexander Smalls, an African American James Beard winning chef from Harlem, New York, is bringing Pan-African cuisine to life through Alkebulan in Dubai, with plans to launch a second location in Harlem in the near future. This African food hall experience was first conceptualised at Dubai's Expo 2020 and brings together talented culinary professionals celebrating the food of African heritage through a contemporary lens 
Accomplished pastry chef Mame Sow, who was born in Dakar, Senegal, before relocating to New York as a teenager, is the creative mind behind Alkebulan's Shoebox Bakery. Her signature dessert and love letter to Senegal, "Gateau Dakar", a vanilla cake with a baobab mousse and hibiscus jam and glaze is infused with flavours that, she says, "make me feel at home when I'm not there". Sow admires Malonga's work and the fact that he is not only bringing African cuisine to the forefront but doing so in a sustainable way. "People always assume African cuisine is heavy," she said. "But it is one of the healthiest cuisines in the world. We are using what we locally source. We make our own spice mixes, everything is fresh." She said that people are taking notice of African cuisine and that it is set to be the next biggest thing in the culinary world.
Although just at the dawn of his career in Africa, Malonga has already made waves in the wider culinary world. As a recipient of numerous awards, including being nominated in the Best Chef Awards and making the 50 Next Champions of Change list, he has quickly risen to the top of his field. He founded Chefs in Africa to bring attention to African gastronomy and provide an educational platform for future chefs on the continent, and offers opportunities for chefs from around the world to train with him at his "innovation lab" at Meza Malonga. He also hopes to have a far-reaching impact in rural communities where he hires farmers and facilitates development in tourism.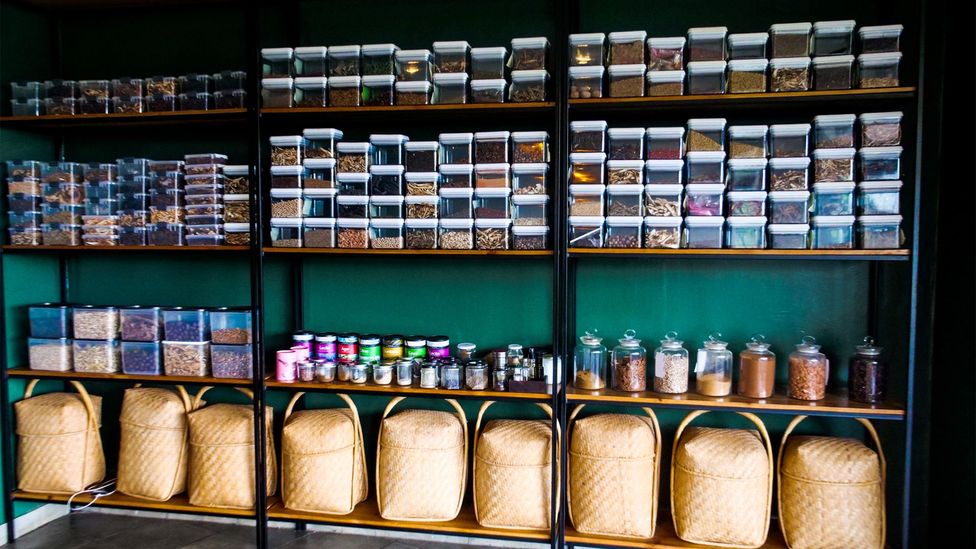 Meza Malonga incorporate's indigenous ingredients from across the African continent (Credit: Alicia Erickson)
Malonga and his team are busy designing plans for an experimental culinary centre in Musanze that will combine sustainable farming with a farm-to-table dining experience. The result will be even more elaborate than the tasting menu at Meza Malonga, featuring 12 courses centred exclusively on Rwandan cuisine and the produce grown in Musanze. Guests will also have the opportunity to explore the farms, go fishing and otherwise immerse themselves in the region where the food they're eating is grown.
"Food is education and sharing. People don't eat to make themselves full. They eat for the experience, the emotions," he said. "At Meza Malonga, we want international guests to come and learn about African cuisine."
For me, Africa is the garden of the world
Each year, Malonga features one or two indigenous and underutilised African ingredients on his menu to show how the products can be used creatively and with modern techniques. This year he is featuring sorghum, an ancient cereal grown in Chad and Ethiopia for more than 5,000 years, and millet, which has origins in the Sahel region of West Africa.
"For me, Africa is the garden of the world. We have amazing ingredients, recipes, stories to tell behind the food and the people who make it," he said. "Slowly, the world is awakening to Pan-African gastronomy."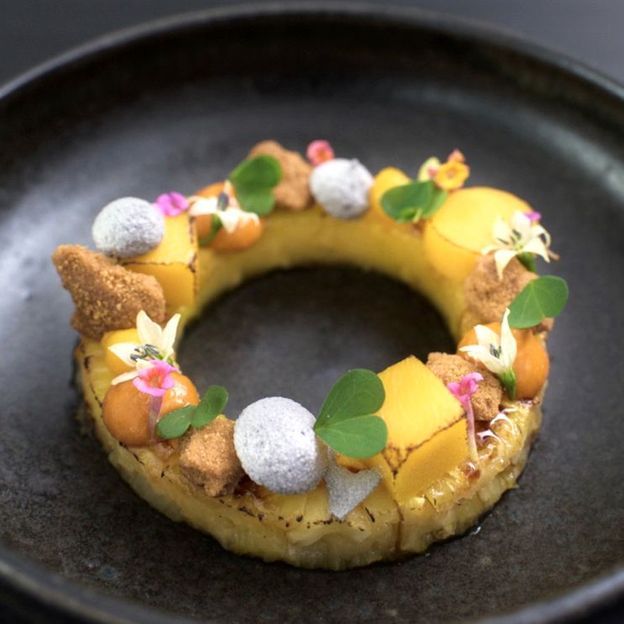 Mananasi: spice pineapple rings with coconut meringue and ginger caramel (Credit: Meza Malonga)
Mananasi (Pineapple in Swahili) recipe (serves 4)
By Chef Dieuveil Malonga (adapted for BBC Travel)
Spiced Pineapple 
Ingredients: 
2 pineapples
1 vanilla pod
6g ground cinnamon
6 cardamom seeds
6 Penja pepper seeds (black peppercorns can be substituted)
10g butter
30g brown sugar
Instructions:
Clean and peel two pineapples. Cut one pineapple into pieces, and then blend it and filter out the juice. Scrape out the seeds from the vanilla pod. Pour the pineapple juice into a saucepan, and then add the vanilla seeds, cinnamon, cardamom seeds and Penja pepper seeds. Boil mixture until it is reduced to about half the original amount.
Take the other pineapple and slice it into rings. Sear the pineapple rings with butter and brown sugar until caramelized. Place the caramelized pineapple rings into the previously reduced pineapple juice, and refrigerate for 6 hours.
Coconut meringue 
Ingredients:
20g unsweetened desiccated coconut
3 large egg whites
40g powdered sugar
Instructions:
Heat oven to 300°F (150°C). Spread the coconut on a baking sheet and bake until golden (about 5 minutes); remove from oven, and then lower oven to 200°F (95°C).
Beat egg whites until they form soft peaks. Slowly sprinkle in the powdered sugar while beating until the whites are stiff and glossy. Use a pastry bag with a large tip to pipe the meringue into shapes onto an ungreased, parchment-lined baking sheet. Sprinkle with toasted coconut and bake for 1 hour. Turn oven off and let meringues dry inside oven until crisp.
Ginger caramel 
Ingredients:
3 tablespoons brown sugar
3 tablespoons cold water
2 tablespoons heavy cream
10g butter
1 tablespoon fresh ginger juice (made from blending fresh, peeled ginger root with water)
Instructions:
In a small saucepan over medium heat, add sugar and salt and cover with water. Bring to a simmer over medium heat, stirring every so often until sugar is dissolved (about 5 minutes). Increase heat to medium-high and cook until deeply golden, without stirring (4 to 5 minutes more).
Once caramel is a deep copper colour, turn off the heat and immediately stir in the cream, butter and ginger juice. The mixture will bubble up so be careful! Let cool slightly in pan, then transfer to a storage container to cool off completely.
To Assemble:
Place a pineapple ring on a plate, and then carefully arrange the meringues, ginger caramel and decorations like moringa leaves and blossoms on top of the pineapple ring. 
BBC.com's World's Table "smashes the kitchen ceiling" by changing the way the world thinks about food, through the past, present and future.
---
Join more than three million BBC Travel fans by liking us on Facebook, or follow us on Twitter and Instagram.
If you liked this story, sign up for the weekly bbc.com features newsletter called "The Essential List". A handpicked selection of stories from BBC Future, Culture, Worklife and Travel, delivered to your inbox every Friday.