In predominately Muslim countries, women are discouraged from scuba diving. But with trailblazers proving they can do it, are the figures about to be buoyed up?
T
The scariest part of diving is always that moment before you take the first step into the water. Staring down into dark, endless waves – weighed down by diving gear ­–­ you find yourself questioning what you are about to do, especially if, like me, you'd volunteered to be the first to leave the vessel.
I was going through the usual feelings of apprehension standing above the Red Sea, just off the coast of Aqaba in south Jordan. I'd already got over my fear of diving a couple of years previously – following a bad try-dive experience as a backpacker a decade earlier – and was now undertaking an advance PADI (Professional Association of Dive Instructors) course. But still, with an inner voice telling me I shouldn't jump, I found it difficult to take the plunge.
Then I saw Wa'ed Alma'aytah.
She was leading a group of first-time divers, and at first, I thought it was a neoprene hood she was wearing on her head. But after jumping into the water and watching her as I explored the soft corals amid eagle rays and brightly coloured reef fish, I realised that she was diving in her hijab. And not just diving, but leading and teaching a group of students hoping to become PADI certified.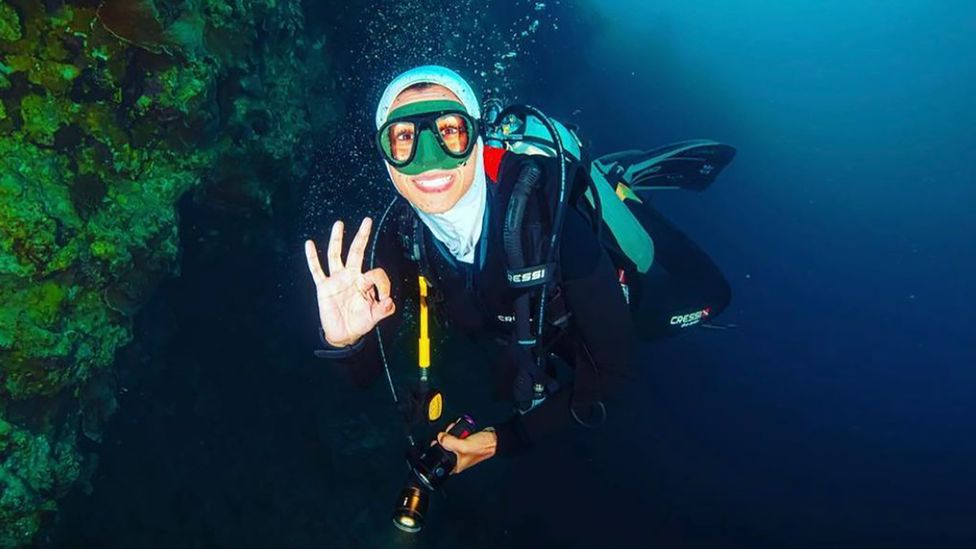 Wa'ed Alma'aytah was the first female dive instructor in Jordan (Credit: Phoebe Smith)
"Wa'ed is very special," said Khaled Kenawy, managing director of dive company Go Aqaba, when I climbed back onto the deck and asked who she was. "She was the first female dive instructor in Jordan – we are lucky to have her working for us."
Brought up in a fairly strict Muslim community in the Jordanian city of Al-Karak, Wa'ed was – as all her female friends were – discouraged from participating in outdoor activities, particularly anything deemed "adventurous". But in 2013, after she finished school studying accounting and IT, she serendipitously found a job in a dive shop in Aqaba. It was here that her whole life changed.
It was something I never thought I should or could do. Women from my community didn't do it
"One of the dive instructors asked if I wanted to try diving," she told me, as we chatted on the boat. "It was something I never thought I should or could do. Women from my community didn't do it."
Despite her concerns about what people might say, she decided to take the big step – literally off the back of a dive vessel. It changed her whole perspective. "When I got into the water and saw all the life down there and experienced fish coming close to me, it made me very happy. I wasn't worried about what anyone would think anymore, just overwhelmed by the calm and the silence. I knew I wanted more."
Wa'ed wasn't just thinking of more dive excursions for fun. She was sure she wanted to take this up professionally and become an instructor so she could teach others the joy of exploring the aquatic life underwater. But first she had to tell her family.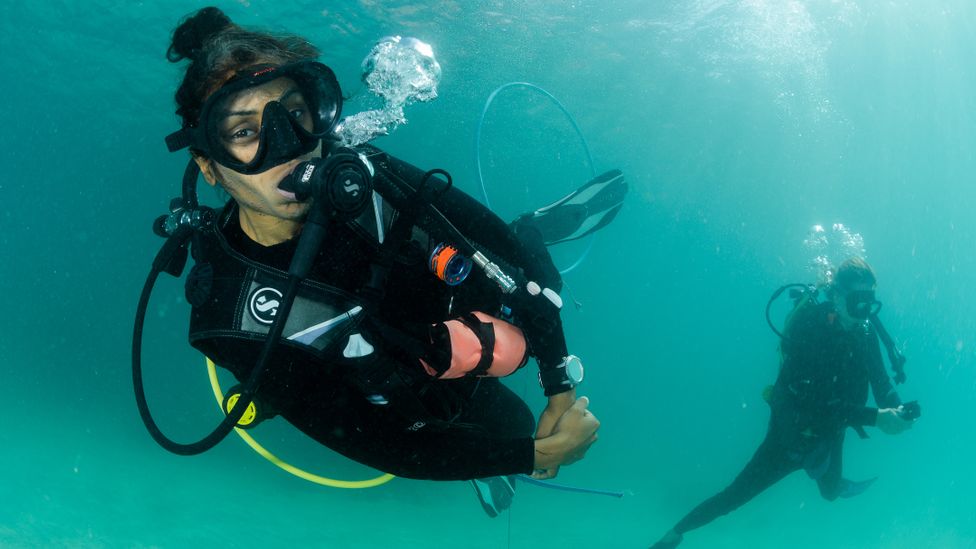 Ehdaa Al-Barwani, Oman's first female PADI instructor, runs women-only dive courses (Credit: Nash Photography)
"I worried, but though they were surprised they were very supportive," she said, as we began to pull our wetsuits back on and get into the water for further exploration. "Despite some people from my community saying it wasn't something a woman should do, my parents encouraged me, which made me determined to carry on, to show people that women can do something different."
Lifting our air cylinders onto our backs, she described the next dive site we were headed to: a sunken military tank, scuttled to create an artificial reef for marine life. While our boat manoeuvred us to the entry point, she talked of her own internal battle with her decision to become a diver. "I did worry that people were disapproving and what they would think of me for doing this – and what they would think of my parents for letting me. But though there were disapproving comments within our community, if I wanted to be a diver I had to be brave and do it anyway. Now I'm an instructor, and I think it has made people think differently about women diving and doing activities like this."
Wa'ed was being modest. Not only has she changed some people's opinions of what women should and shouldn't do in Jordan, but she was responsible for taking out another woman several years later who was so inspired by her that she went on to become the second female scuba dive instructor in the country and now works in another dive centre on the coast.
Once more we stepped off into the water to explore the world beyond the surface. Lionfish gathered in the darkened corners of the sunken army vehicle, while brain sponges had set up residence close to the hatch on the roof. Wa'ed pointed out an array of critters I would certainly have missed without her, including small shrimps, a number of starfish and the tiny but colourful blennies poking out from crevices in the metalwork.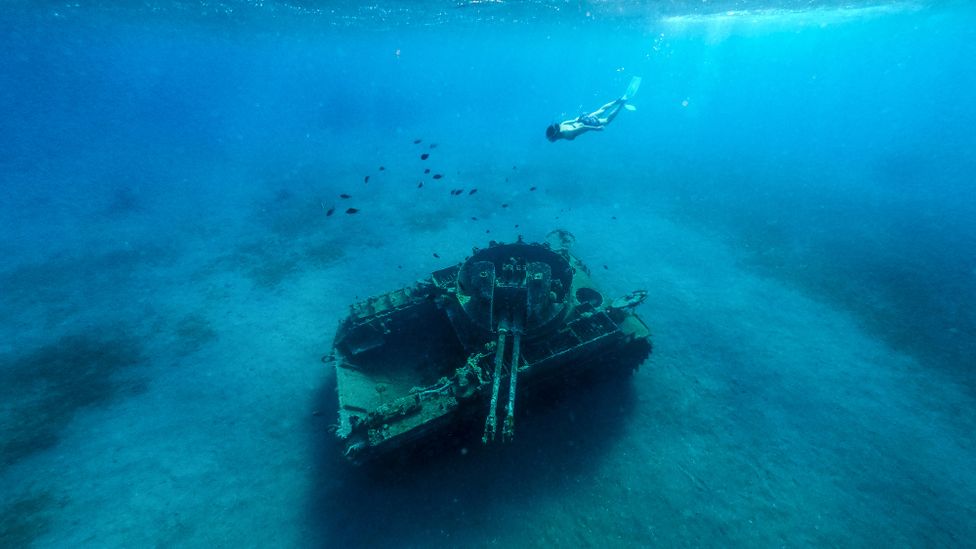 In Aqaba, a sunken military tank has been scuttled to create an artificial reef for marine life (Credit: Lepretre Pierre/Getty Images)
From there we headed to the Seven Sisters site, so named for the multiple bommies (outcrops of coral) that rise up off the ocean floor, where yellow and white butterflyfish elegantly swished passed our goggles, and the electric blue of a damselfish darted between shoals of striped fusiliers as they fanned around the towering underwater pillars.
As we moved through the water, I thought about how few female dive instructors I've actually met around the world. According to PADI, the activity is still very much dominated by men: globally, of the 128,000 instructors globally, just 20% of instructors (at all levels) are currently female. In Europe, the Middle East and Africa the number sinks – to around 16% – and in predominately Muslim countries, that figure plummets further, with less than 10% in the countries of Bahrain, Iraq, Israel, Jordan, Kuwait, Lebanon, Oman, Qatar, Saudi Arabia, Turkey and the UAE.
When I asked PADI if the numbers look to be increasing, they said that due to the Covid pandemic it was hard to answer clearly, but did agree that "in general, there is opportunity to grow the female ranks of PADI Professionals – and demand for female PADI Pros worldwide".
The organisation has started to promote women working in their world, particularly in places where they are not encouraged to be as active in the outdoors, such as the Middle East. They have launched an AmbassaDiver programme where they use their website and social media channels to tell the stories of these women breaking the mould. These include Master Scuba Diver Trainer Nouf Alosaimi from Saudi Arabia – the first Saudi female technical diver, who founded Pink Bubbles Divers (a female diving community that encourages women to connect with the ocean); and Ehdaa Al-Barwani who is the first female PADI instructor from Oman and runs women-only dive courses.
One thing is for certain, the number of women divers in Jordan has increased since Wa'ed joined Go Aqaba in 2018. According to Khaled, there are now five of them teaching scuba diving in Aqaba, and they've seen a rise in female customers too.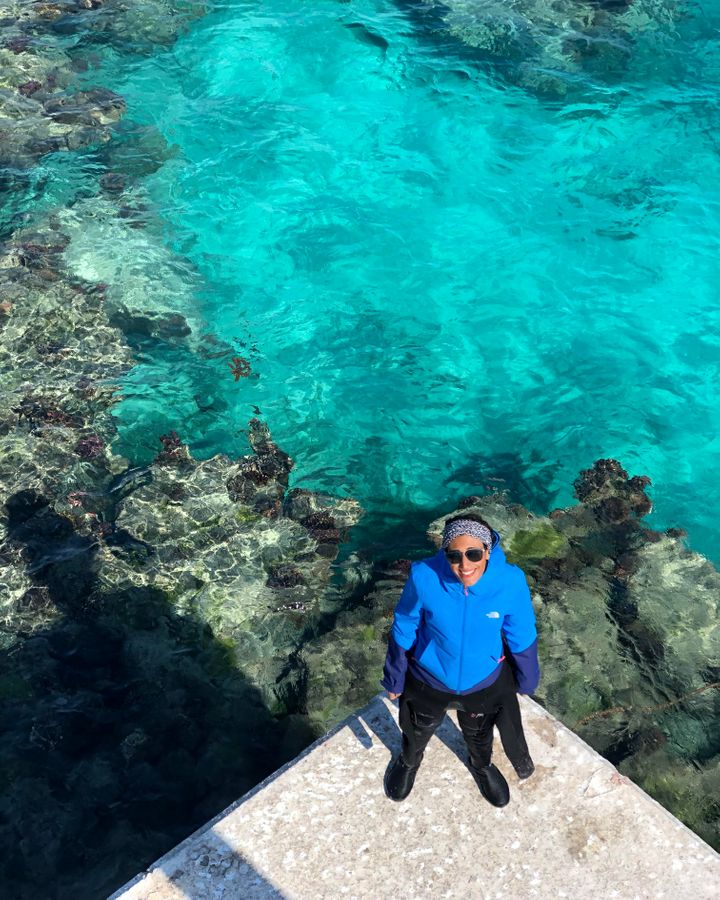 Nouf Alosaimi is the founder of Pink Bubbles Divers, a female diving community that encourages women to connect with the ocean (Credit: DoaaAkeel)
"Every year we have a PADI Women's Dive Day on 20 July," said Khaled. "In 2020, after the pandemic, Aqaba became the first city in Jordan to re-open and we were surprised and pleased to have 100 ladies coming out to try diving in Aqaba that day."
When we re-surfaced for the final time, I asked Wa'ed whether she preferred taking men or women on dive excursions. "It makes no difference," she said. " I just love to take out new divers and see their faces afterwards – I can tell just how much they have enjoyed the experience. Once we're in the water, we're all the same."
Since meeting Wa'ed, I'm somehow less afraid of jumping into new dive sites. Here was someone who was breaking cultural norms every time she broke the surface of the water. And, if she could do that and thrive, then I could definitely take a leap of faith.
--
Join more than three million BBC Travel fans by liking us on Facebook, or follow us on Twitter and Instagram.
If you liked this story, sign up for the weekly bbc.com features newsletter called "The Essential List". A handpicked selection of stories from BBC Future, Culture, Worklife and Travel, delivered to your inbox every Friday.