Saudi Arabian GP: A burgeoning rivalry between Charles Leclerc & Max Verstappen

By Andrew Benson
Chief F1 writer
Last updated on .From the section Formula 1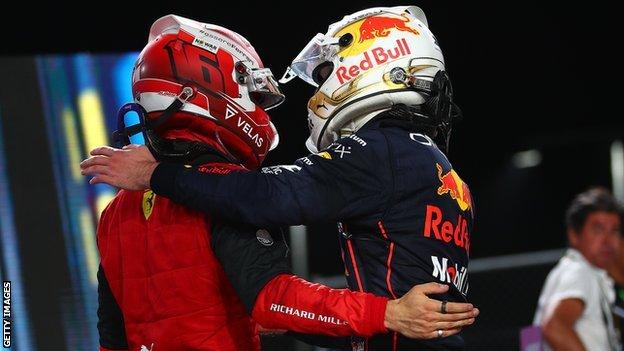 Two races down in the new Formula 1 season, two fantastic battles between Charles Leclerc and Max Verstappen.
The two 24-year-olds, the vanguards of the sport's new generation of drivers, staged a fight at turns tense and frantic as they played cat-and-mouse with each other and the various overtaking zones around the demanding and dangerous Jeddah track.
In the first race of the season, it was Leclerc who came out on top; in Saudi Arabia, it was Verstappen.
After pulling into the pit lane, the two drivers embraced, high on the adrenaline of their intense fight, and the season is so far giving the impression that it has the potential even to match the highs of Verstappen's fight with Lewis Hamilton last year.
But the excitement of the racing only went so far in being the distraction the sport's bosses had said they wanted from the overarching theme of the weekend - should F1 be racing in Saudi Arabia at all?
The politics question
There was a missile strike on a nearby oil factory during Friday practice, and the drivers at one point that evening had unanimously decided not to race.
They already had serious concerns over the safety of the track and the human rights issues that surround Saudi Arabia, and the fear of a missile hitting the track tipped them over the edge.
After four hours of meetings with a rolling cast of senior figures, the drivers were persuaded to climb down. And the longer the weekend went on, the more claims there were that the fear of "what (could happen) if we don't race" - as Alfa Romeo driver Valtteri Bottas put it - was involved.
Some even said that the drivers received unspecific warnings that there could be "payback" or "repercussions" if they took action.
F1 and governing body the FIA insist there was no talk of potential consequences in any of the meetings in which they were involved.
Through the weekend, it was very much a party line that the race went ahead because teams and drivers had been convinced by the Saudi authorities that the event was secure. But the drivers continued to be uneasy.
And that led to another party line. Any question as to whether F1 should race in Saudi Arabia again was met with the same response - we're going to talk about that later.
"We had a lot of guarantees we would be safe," Verstappen said after his victory, "but I think after this weekend all the drivers together we will speak with F1 and the team bosses to see what's happening for the future."
Mercedes F1 boss Toto Wolff said: "There wasn't any arm twisting from our side. There were good discussions. When the team principals talked to the drivers, what we talked was sense and not at all any pressure. But maybe that was perceived in a different way.
"In the end, the show and spectacle was amazing, and what we delivered as a sport was great. This is what sport should do and to be honest I have been (coming) here for five years. I have seen (societal) change. But there is just so much more to do. A lot."
This is a reference to F1's justification for its involvement with Saudi - that it hopes its presence there can be a driver for change within the country. Not everyone buys that argument, of course, and Hamilton himself wondered aloud on Friday why change could not be faster.
F1's bosses - not just chairman Stefano Domenicali, but his bosses at Liberty Media, Greg Maffei and John Malone - now have some serious thinking to do.
Saudi Arabia pays F1 a lot of money. But having witnessed very clearly over the weekend the reputational risks that accompany it, people inside the sport are asking whether F1 can convincingly continue to push for diversity through its "We Race As One" campaign, while also selling the sport to the highest bidder.
Or, as one senior insider put it to BBC Sport, will they "have to choose between profits and corporate responsibility"?
A cat-and-mouse fight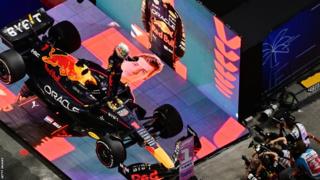 Verstappen took his first win of the season and 21st career victory
Last year, at the inaugural race on Jeddah's high-speed and formidable street circuit, the fight between Hamilton and Verstappen reached its bitterest low. Four months on, the contest between Verstappen and Leclerc was more about pure racing than gamesmanship and over-aggressive overtaking moves.
The race was given an extra dimension by Verstappen and Leclerc playing chicken with the DRS overtaking zones - trying not to be first going into the final corner, so they could get the speed boost from the DRS aid down the pit straight.
Some will have found it bordering on farcical at times, as the two drivers slammed on the brakes trying not to overtake each other. But Verstappen and Leclerc said they found it enjoyable.
"I definitely enjoyed the fight," Leclerc said. "It's disappointing to lose the win so late in the race but it was a fun fight.
"It was very difficult because we had two cars in a very different place. I was very strong in the first sector in all the corners and much less strong in the straights.
"The point where we struggled the most was whenever Max got the DRS because our weaknesses were just bigger - the straight-line speed differences were bigger. We were still quick in the corners but not enough to have the margin to cover. From that moment onwards it was a bit more difficult for us.
"It was very tricky. I tried to have the DRS in the last corner. It worked twice but not the last time and then there was this yellow flag, where I could have had a chance to be alongside at least into Turn One, but I had no DRS there.
"This was a little bit of a shame. But it is part of the game."
The brewing title battle
Verstappen's win was exactly what Red Bull needed after both cars retired with fuel-system problems within sight of the flag in Bahrain.
A first and a second for Leclerc in two races mean he has a 20-point lead over Verstappen, with the other Ferrari driver Carlos Sainz between them. But Red Bull are not too worried about that. As team principal Christian Horner joked afterwards: "There are only 21 races to go."
Already Leclerc and Verstappen look likely to be the men to contest this year's title, although Sainz has his own aspirations once he can get on top of this year's new cars.
Verstappen has been here before. For Leclerc, it is his first time in an F1 championship battle. That he has the speed and skill to take on Verstappen, though, is not in doubt.
"I am quite happy about the start, for sure," Leclerc said. "I am working well with the team and the preparation for the first race was very good. I feel good in general but there is definitely more to come.
"The thing I am happy about is not really the performance but that I know exactly where I still need to work and what I need to improve to unlock more performance.
"I learn from my own experiences. I have my own style. I am quite strong in a wheel-to-wheel battle and you always try to be better.
"Max, I know him quite well, we have had some great battles in karting and we have grown up together, and it helped us grow in our own way."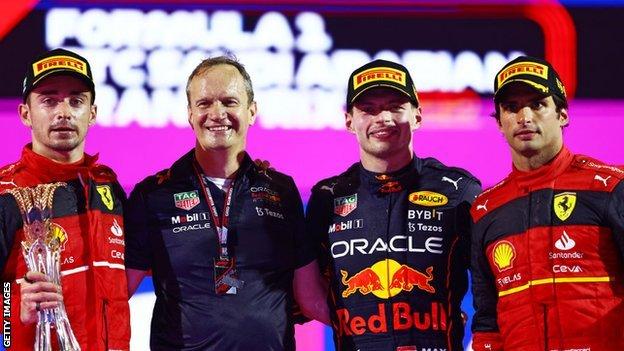 Ferrari's chance for redemption
This year is also a chance for Ferrari to bury some demons. The last time they were in title contention - with Sebastian Vettel, in 2017 and 2018 - they started both years with the fastest car, and kept it so for much of the year, only for their campaign to unravel following a series of mistakes from team and driver, and after Mercedes out-developed them.
This point was put to team principal Mattia Binotto after the race. And he nodded his agreement. He was not in charge of the team then; he was engine chief before being promoted for 2019. But he says Ferrari have learned from their experiences.
"Keeping up the level of development is always a challenge," Binotto said, "but it's true that as well our competitors are very strong in that and as Ferrari in the last two opportunities we had in 2017 and '18 we lost a bit of ground in development.
"Since then, we have improved our tools - the wind tunnel, our methodologies and simulator - and we are much better prepared than in the past to do a better job in terms of development.
"But today we also have a budget cap which will influence the rate of development. We need to make sure we have the right policy on that because it could be a game changer in the fight, the development."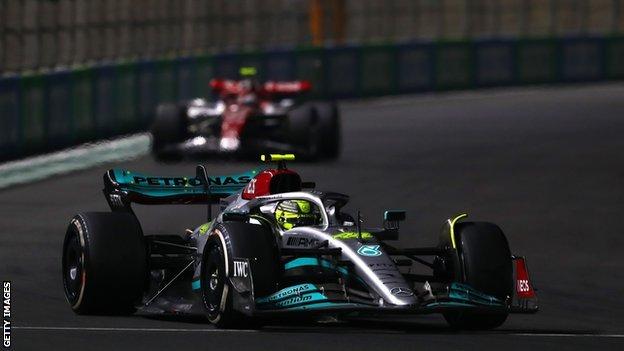 Will Mercedes join the fight?
Horner said after the race that he had "no doubt (that) at some point Mercedes will join the battle".
But the world champions themselves are not so sure about that. This was another difficult weekend for them. On pace, they are in no-man's land behind the top two teams and ahead of the rest, and that's where George Russell finished in fifth place.
Set-up problems relegated Hamilton to 15th on the grid. He was more competitive in the race, but still could manage only 10th, not helped by a mix-up about whether to pit just before the VSC was deployed.
The big concern for Mercedes is that they still don't have the answers they need to unlock the pace they believe they have in the car - and are still not sure it is there at all.
The Mercedes engine has lost its advantage over the rest. But it is the chassis where the most significant shortfalls lie, and if Leclerc and Verstappen keep sharing the wins, before long Hamilton will have an almost impossible amount of ground to make up.
Hamilton said after the race that a win "feels like a long way away", and that's how it looks for now.